Gulf Shrimp… How Do You Eat Yours?
We recently saw an article written by Southern Living Magazine titled '10 Ways with Gulf Shrimp', offering 10 easy recipes for you to try at home.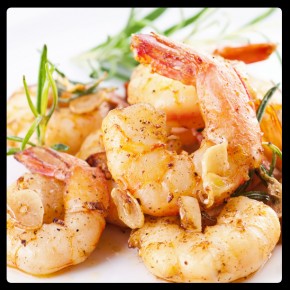 This got us thinking… Gulf Coast seafood has long enjoyed it's great reputation for being some of the tastiest, highest quality seafood out there. Not to brag, but it's famous for it… kinda like Florida Oranges or Georgia Peaches.
The point the article was making, was that you can't be at the beach, enjoying the Gulf Shrimp every day – so the next best thing is at least to have a TASTE of the Gulf…
Well we want you to have your cake shrimp and eat them too! Here at the Sandpiper  – We can think of at least 10 ways you can enjoy your freshly caught Gulf Shrimp…
Freshly prepared and cooked in your very own hotel suite / private beach house / condo / villa. (Many of the rooms & suites at the Sandpiper come with kitchenettes or full kitchens).
Sitting on your own private beachfront balcony overlooking a stunning Panama City Beach sunset. 
Relaxing on the large back deck, right on the beach, using the free grills provided.
"To Go" from the Paradise Bar & Grille (right across the street) or Buddies, less than a mile away – Let someone else do all the hard work! 🙂
Laid back right on the World's Most Beautiful sugar white beaches, with your toes in the sand!
Hanging out in the World Famous Tiki Bar enjoying the refreshing tropical breeze, and an ice cold beer / cocktail in your hand.
During the Thunder Beach motorcycle rally, as you enjoy a live, free concert performance by headline bands on the main beach stage in the Tiki Bar!
Dipping your toes on one of our refreshing outdoor pools or hot tub. 
In the peace and quiet – because all the kids are busy being entertained with the Mini Golf / Waterslides / Scavenger Hunts / Beach Games etc.
Gathered around a table with the entire family for a reunion or get-together at the beach! With the kids, grand kids, parents, aunts, uncles, cousins and friends – making fun memories together!
What did we miss?
How many other ways can you think of to enjoy fresh Gulf Shrimp here at the Sandpiper Beacon Beach Resort, in Panama City Beach, Florida?
(You can read the original Southern Living article here: http://www.southernliving.com/food/easy-gulf-shrimp-recipes)