Panama City Beach Renourishment Project: COMPLETE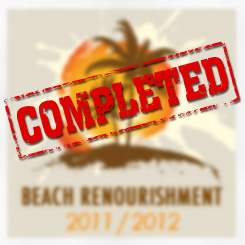 In 2011 we wrote a blog post titled "Panama City Beach Fl Gets a Facelift…" discussing the third beach renourishment project in the history of Panama City Beach Fl.
Well, 3 months later, we're pleased to announce that after a lot of hard work (and 1.15 million cubic yards of sand) the project reached a successful close on December 19th 2011.
The completion of the Panama City Beach Renourishment project was greeted by many residents as an early Christmas present, according to Lisa Armbruster, a spokeswoman for Sustainable Beaches.
According to the executive director of Panama City Beach's Tourism Development Council, Dan Rowe, the main purpose of beach restoration was to protect life and coastal property during the large storms, which affect the Panhandle.
Nobody would argue that's a great reason, but it's also the dramatic beauty and condition of the beach that keeps thousands of vacationers returning to Panama City Fl each year.
And the REALLY good news?
The Panama City Beach shoreline has now been extended by about 100 feet… so that's even more famous sugar-white sand to walk, sunbathe, and play in!
Past Panama City Beach Renourishment Projects
1998 – Panama City Beach's first major renourishment project was needed after 1995's Hurricane Opal caused significant erosion. Cost: $21.5 million.
2005 – The second beach renourishment project took place following Hurricane Ivan. Cost: $25 million.
Still want to learn more about Panama City Beach? Click here to read more about Panama City Beach Florida