Beachfront Hotels Have Great Benefits!
Nobody wants to vacation on the "World's most beautiful beaches", and stay half a mile away from the actual beach. That would be like visiting Vegas and not seeing a show, or ever going to a casino! You're kinda missing the point…
If you plan to relax, soak up the warm Florida sunshine and dip your toes in the sand, then you really can't beat staying in a hotel / resort that's directly on the beach.
Not all beachfront hotels in Panama City Beach are created equally, though.
You Only Get One Vacation… Do It Right.
None of us get as much vacation time as we'd like, so it's important that you can check as many boxes as possible;
Why not look for somewhere that offers a wide choice of rooms and suites to accommodate groups of different sizes. That will make sure your group is happy, no matter how big (or small).
Instead of spending hours calling around a dozen different hotels, why not find somewhere that offers standard hotel rooms, multiple-room suites, as well as private beach houses, villas, condos, all with customizable views/layout options to help you stay on budget?
If you are visiting with your family, it's great peace of mind knowing that your hotel also offers planned daytime activities for the whole family. From toddlers to small kids, and teenagers. If your hotel has enough to keep everyone entertained, there's no reason to constantly have to leave the property during your stay.
Being directly beachfront is great – but as you can see, that's just one piece of the perfect vacation puzzle. If you have to put your vacation on hold and leave the beach each time you want to eat, or find something fun to do, then it's suddenly much less convenient.
A Beachfront Hotel With Things To Do & Places To Eat Right There.
There is one beachfront hotel in Panama City Beach that checks all the boxes above. (That hotel is also pet-friendly in case your four-legged friend needs some R&R too!)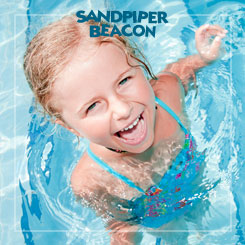 The Sandpiper Beacon Beach Resort & Tiki Bar is directly beachfront. It has daily scheduled family games and activities planned all year round, with seasonal activities changing with the year.
Plus, the large beachside hot tub and multiple indoor and outdoor pools will keep everyone in the group entertained.
Oh, and there's always the waterslides, indoor lazy river ride, mini golf, beach volleyball, kid's playground, arcade room, pool tables, or ping-pong tables in the tropical Tiki Bar.
Hungry? Don't put your vacation on hold, get changed and try to find somewhere to eat & fight traffic… Relax, you can eat right here on-site.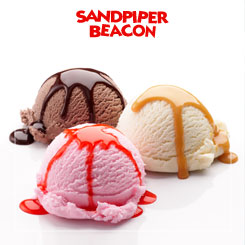 Grab a delicious bite to eat in beachside deli, which serves breakfast, lunch, and dinner right on the beach (literally, with your toes in the sand). Or, put your flip flops on, and stroll across the street to Coconuts; a family-friendly themed restaurant, also offering a special kid's menu.
Then there's always the ice cream parlor (and 44+ toppings bar) for desert! All right here on-site!
Better Value = a Better Vacation.
You'll be pleasantly surprised at just how much value staying somewhere that offers so much, provides. You will enjoy more time actually 'being' on vacation, and less time stressing over finding things to keep everyone happy and entertained.
Say goodbye to those vacations where you get back home, feeling like you need another vacation to get over it all!
Call the Sandpiper Beacon Beach Resort today, or visit the website to learn more!
1-800 488-8828 (FREE – 24/7)
http://www.sandpiperbeacon.com/panama-city-beach-hotels/things-to-do.shtml