Panama City Beach Sets Bikini Parade World Record
Panama City Beach, FL recently entered the history books.
On March 6th 2012, 450 women wearing bikinis marched for one mile along the World's Most Beautiful Beaches… Panama City Beach, Florida to set a new World Record.
Making History!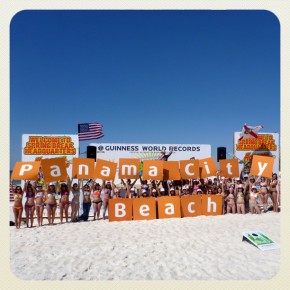 The group of incredible women who broke the World Record consisted of spring breakers from all around the country and Panama City Beach locals. Together, they destroyed the (then current) record of 357 held by the Gold Coast of Australia, set during October 2011.
To make the record attempt official, the presence of a Guinness representative was required. "This is not something you see every day, the organization to put this together was incredible" said Philip Robertson, the official Guinness adjudicator told a local Panama City Beach news channel.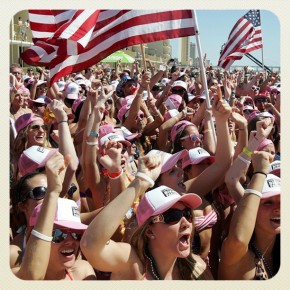 Doing it for America!
Some participants truly felt the significance of the historic World Record attempt.  One spring breaker from Maine, Karly Quinn said: "This is the most exciting day of my life, tears were coming out of my eyes, I'm so proud of the United States."
Huge Success!
Leading up to the World Record attempt, some Panama City Beach officials voiced concerns that the event had the potential to turn into a large Spring Break party on the beach. However, the Record Attempt was a huge success, and represents a solid win for Panama City Beach, Fl… and America!
Panama City Beach is proud of its place in the history books. "We are thrilled to have challenged and broken the record for the World's Largest Bikini Parade" said Dan Rowe, president of the Panama City Beach Convention & Visitors Bureau.
So What's Next?
Leading up to Panama City Beach's record attempt, the then current record holders in Australia promised that if their record was beaten, they wo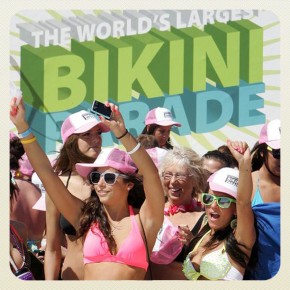 uld simply claim it right back! Time will tell if they are up to the challenge…
There may even be a new contender on the scene. Ocean City, Maryland Councilman, Brent Ashley, has set a very ambitious target of 2,012 bikini-clad women. Going even further, to say "If we can't beat 450, we've got a problem."
Whatever happens, Panama City Beach will want to maintain it's claim to the record, keeping it exactly where it belongs, RIGHT HERE on the World's Most Beautiful Beaches!