[mashshare]
Captain Anderson's Seafood Restaurant
It would be a shame to visit Panama City Beach, Florida, and miss out on an opportunity to eat some of the greatest seafood in the area.
Coastal towns all over the World have a reputation for serving up some of the freshest, and tastiest seafood you'll find.
Panama City Beach is no exception. And it might just be one of the greatest seafood restaurants you ever visit.
The kind of place where the fish is so fresh, you can genuinely say "that was swimming just hours ago."

It's the little extras that will really make this experience feel special though.
It starts with the impressive market that welcomes you as soon as you arrive, stocked with meats, fish, cheese, pastries and more.
Since your mouth is probably watering by now, imagine how good the fresh-baked bread and delicious desserts are.
They are baked daily in the Captain Anderson's in-house bakery, just for guests of the restaurant.
Don't worry if you're visiting with the kiddo's. The special Kid's Menu makes sure there are plenty of tasty and balanced meals for them to pick from too!

It's not just seafood that Captain Anderson's specializes in, though.
Carnivore's will feel right at home with a wide selection of succulent cuts of premium Angus beef.
There's the mighty 320z Porterhouse, and the delicately seasoned tenderloin; a Nicaraguan Cut served with Bermuda onions, among other classic cuts.
Not to mention the pasta and poultry, soups and salads, and the wide choice of appetizers.

A popular "local's secret" is to dine early, and watch the fleet unload their catch of the day.
You know they are doing something well, when you are approaching your 50th anniversary.
This family-owned restaurant is no stranger to national accolades either.
[-] Named among America's Top 50 restaurants.
[-] Recipient of the "Best Seafood Restaurant" award from Southern Living and Wine Spectator's "Award of Excellence."
[-] Winner of Florida Trend's Golden Spoon Award for 15 years.
[-] Restaurant Hall of Fame inductee.
If you aren't convinced yet, maybe some of these customer reviews taken from TripAdvisor.com will help: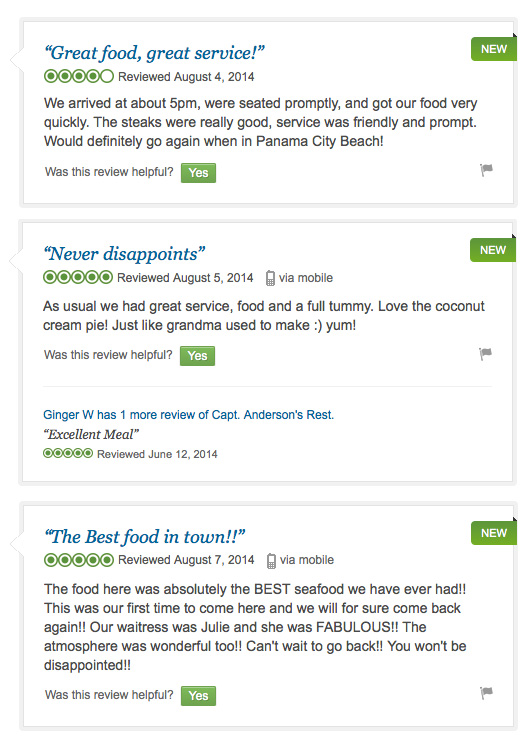 So what are you waiting for?
Visit the Captain Anderson's Website today, where you can place a to-go order, purchase their signature cook books, treat somebody to gift cards, or find some fantastic recipes to try yourself. http://www.captanderson.com
5551 N Lagoon Drive
Panama City, FL 32408
Phone: (850) 234-2225
[mashshare]