Charlie Lahan's Carousel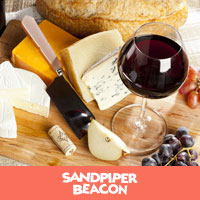 They say you can't be all things to all people, but the Carousel Supermarket definitely comes close.
Located just less than 2 miles away from the Sandpiper Beacon Beach Resort (a short 3-minute drive), you'll find Charlie Lahan's Carousel Supermarket. Family owned and operated since 1967.
It's much more than just a Supermarket. You'll also find an impressively-stocked cheese and wine cellar, a package liquor store and a gift shop. So you can pretty much get everything you need for your meals or even a party.
Convenience & Value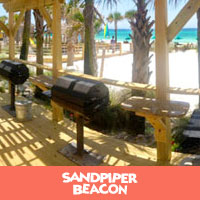 The two words that really sum up the Carousel.
If you are staying in a hotel room with a kitchen, and plan to prepare some of your family meals in your room to save money, then shopping here is a good move.
You might be surprised that the prices are in-line, and often cheaper than big chain supermarkets.
One of the most frequently heard compliments about the Carousel is the quality of their meat. Again, perfect if you're staying in a Hotel with beachfront grills for guests to use 😉
The carousel will even put together special gift baskets with hand-picked selections for you. So if it's somebody's birthday, or you want to plan a surprise anniversary gift, the Carousel can help you!
Happy Customers
The real test is what people are saying about shopping here. Here are 2 reviews taken from the Carousel's Yelp.com page…
Ted, Silver Spring, MD.
Reviewed November 24, 2013
We worked with Shane to get drinks for a party. He was really helpful and flexible from start to finish. Top-notch service. The selection was great.
Stocking up on groceries, there's a nice selection of basics and a few more gourmet options.
Great place overall!
Christopher, Monroe LA
Reviewed August 12, 2014
Don't let this place fool you. Just about everything they carry. Wife thought it was just a little convenience store. Much larger once inside and prices were very very reasonable when comparing to the big chain stores. Highly suggest.
Carousel Supermarket
19440 Front Beach Road
Panama City Beach, FL 32413
(850) 234-2219
See more Supermarkets in Panama City Beach here: Panama City Beach Grocery Stores
Follow the Carousel on Facebook here: https://www.facebook.com/pages/Carousel-Supermarket