10 Cheap Things to do in Panama City Beach for Under $10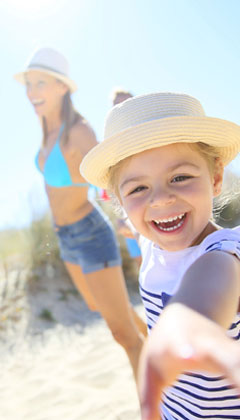 If you look closely, you can find plenty of cheap things to do in Panama City Beach.
Home of the World's Most Beautiful Beaches, amusements, adventure parks, mini golf, museums, attractions, and more…
One of the main perks of choosing to stay at the Sandpiper Beacon during your vacation, is the fact there is so much to do RIGHT HERE without having to ever leave the resort. This way, you save lots of money and get to spend more of your vacation, well, actually relaxing!
From the daily schedule of kids activities like scavenger hunts, facepainting and balloon art, to the waterslides, indoor and outdoor pools, mini golf, beachside playground, lazy river ride and more!
But not everyone stays here at the "FUN!" Place. So those families have to put there imaginations to work, do some searching around, and get creative for ways to entertain the kids. This should help…
Can you still have fun, and not worry about blowing your budget? We set out to find 10 ways you can have fun, all for under $10 in Panama City Beach…
---
 10. Soak Up a Panama City Beach Sunset ($0)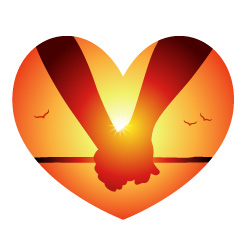 Panama City Beach Florida is proud to boast some of the most beautiful sunsets you'll see anywhere in the World…
Better yet, almost everywhere along the coastline offers you a front row seat to this stunning show.
Best of all? It's completely FREE! Talk about cheap things to do…
Sunset photos of your family, friends, and loved ones make great souvenirs you can look back on for a lifetime of happy memories from your vacation. Plus you can share them online, and make everybody else jealous 😉
---
9. Visit St. Andrews State Park ($8+)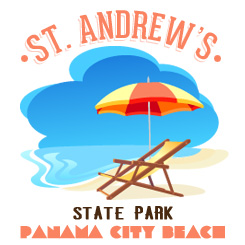 For only $8 per vehicle (up to 8 people) you can take a trip to St. Andrews State Park: ranked as the #2 beach in the United States by travel website TripAdvisor.
Between the natural beauty of the stunning white sandy beaches, emerald waters, and all the activities you can do – everyone in the group will be entertained for hours.
St. Andrews State Park is a great example of the wide variety of things to do there are in Panama City Beach!
Pack a picnic lunch, find a peaceful secluded spot and enjoy the abundance of nature and wildlife…
---
8. Explore Pier Park – Outdoor Shopping Complex ($0)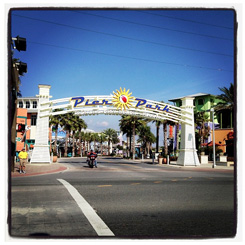 Throw on a pair of comfortable shoes, and let loose in Pier Park – all one million square foot of it!
Top tip: ditch the flip flops. You'll be doing so much walking, your feet will thank you for it.
This Panama City Beach shopping and entertainment center has plenty to offer, inspire, and delight the whole group.
Candy shops, unique beach-themed souvenir boutiques, restaurants and novelty bars.
Check out a matinee movie at the Grand, people-watch, or sit back and soak up some Florida sunshine.
---
7. Check Out Frank Brown Park ($3+)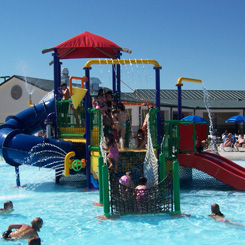 Frank Brown Park is an impressive state-of-the art sports complex, complete with an aquatic center, children's playground and 200+ acres of recreational facilities.
This makes it a GREAT place to take the kids and wear them out! Plus they will be ACTIVE. Making a nice change from the vegetative state the iPad / Xbox puts them in!
Admission to the park is free. So you can park and play without spending a penny.
Entrance fees to the aquatic center vary based on age and residency, but start at $3 per person.
---
6. Hunt for the Best "Tacky" Souvenir ($0+)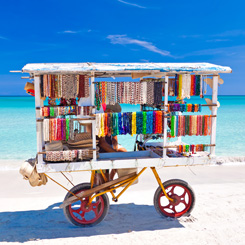 There are plenty of fun stores along the beach to search for the cheapest / tackiest beach souvenir.
You can usually spot them based on the large dolphin or shark mouth you have to walk through to get in 🙂
So why not turn it into a fun game for the family?
Give everybody the same budget, and let loose in the huge beach souvenir stores lining Front Beach Road.
Fridge magnets, keychains, sea shells with boggle eyes… The sky's the limit!
Or (for free) just browse around and marvel at the bounty of marvelous trinkets 🙂
---
5. Shoot Zombies in an Interactive Movie / Video Game ($9.99)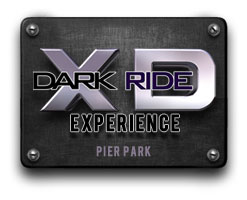 There's an attraction in Pier Park that's part movie, part ride, and part video game. It's called the XD Darkride.
You'll spend the full budget of $10, but it will be one of the highlights of your entire vacation.
Shoot bad guys on the screen as the interactive movie unfolds, and compete for the high score.
Your chair is a motion seat that moves and shakes, and strobe lights, wind blasts and surround sound really immerses you in the action.
Your kids will thank you for it. The choice of rides / stories makes it ideal for younger kids, all the way up to teens and even dad.
---
4. Share a Family Walk Along the Beach ($0)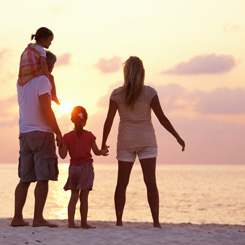 Panama City Beach FL is known as the "World's Most Beautiful Beaches" for a reason…
The fine sugar white sand is unique, and when you see it side-by-side with the emerald green waters, the views are nothing short of stunning.
It's the perfect excuse to share some family time together, and make some memories that will last a lifetime.
Take a camera, hunt for shells, and dip your toes in the warm Gulf of Mexico water 🙂
They do say that the best things in life are free…
---
3. Relax, Unwind, and Float Around the Lazy River ($0)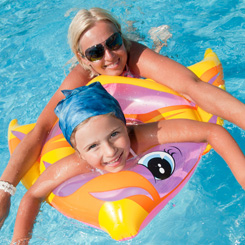 Registered guests staying at the Sandpiper Beacon Beach Resort have access to seemingly endless on-site activities and amenities. All built into the price of your stay.
With all the fun you're having, sometimes you need to just lay back and let the gentle current float your cares away.
The Sandpiper is the ONLY hotel in Panama City Beach with an indoor lazy river ride, and it's completely free to all registered guests.
---
2. Challenge the Family to a Game of Mini Golf ($0)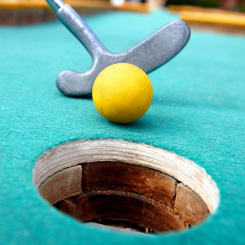 Another perk for all guests staying at the Sandpiper Beacon!
Challenge the family to a fun round of miniature golf right here at the hotel, with awesome views of the beach as you play!
Don't worry if you didn't bring your clubs with you…
You can borrow putters for free from the hotel lobby, and make the loser return them when you're finished 🙂
---
1. Make a Splash in all the Sandpiper Waterslides ($0)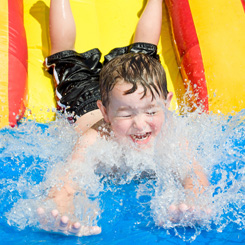 The Sandpiper Beacon also has a great selection of fun waterslides to try out during your vacation.
So much fun, without ever having to leave the resort, or spending a penny!
From the giant inflatable waterslides, to the iconic yellow twist-n-turn turbo slide at the front of the hotel – your vacation isn't over until you've tried them all!
Things like this are what makes the Sandpiper Beacon Beach Resort so much more than just a place to stay…
Cheap things to do are great if you *need* to find things to do. But it's even better if you're staying somewhere with things to do for the whole fmaily already 🙂
---