[mashshare]
It's been another great year for the Panama City Beach Bike Week.
We'd like to start off by thanking everybody that came out to support this great event, and continues to help it grow each year.
At the end of the day, all businesses (hotels, restaurants. bars) in Panama City Beach benefit from your support – and it's important that we remember we are doing this for you.
The Bands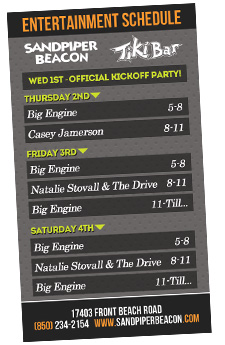 The headline bands playing here at the Tiki Bar at the Sandpiper Beacon were different this year.
Due to schedule conflicts, our popular headline act Mustang Sally we unable to attend and play this rally.
Their high demand took them to Las Vegas – and let's face it, who wouldn't wanna play in Vegas for the weekend?! 🙂
That gave us the opportunity to step outside of our comfort zone, and search for something new, but still familiar.
We struck Gold!
Casey Jamerson
Casey Jamerson and her band put on a stunning performance two nights in a row; Wednesday 1st and Thursday 2nd.
We actually spoke with several guests that were disappointed to have missed her perform, after hearing about her too late.
It's a good sign when word of mouth always brings bikers to the bar, and a great testament to just how amazing the show was.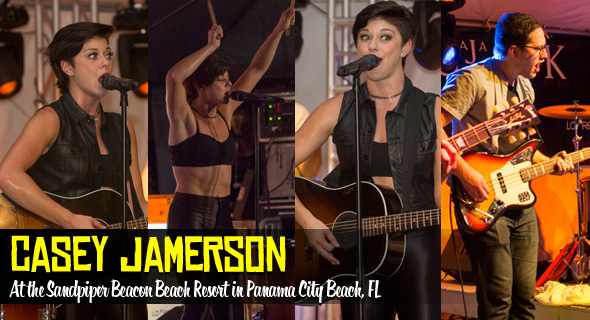 Natalie Stovall & The Drive
Friday and Saturday nights saw Natalie Stovall take center stage in the Tiki Bar, and put on a concert-worthy show that would impress crowds anywhere.
It's safe to say that Natalie Stovall & The Drive sound every bit as good as they look on stage, bringing an energy to the bar that you just can't fake.
Judging from the capacity crowds, we're going to say it was another huge success.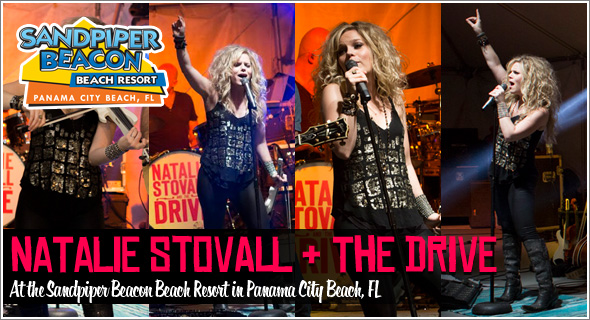 Big Engine
A Tiki Bar staple, Big Engine bring an incredible show each year – and we're constantly asked to be sure we book them again for the following rally.
True to form, Tony & Hans rocked hard, and kept things going in the Tiki Bar from 11-till on Friday and Saturday nights.
Your Feedback
We want you to want to keep coming back each year. Without you, there would be no Panama City Beach Motorcycle Rally.
So we're constantly asking for feedback and ideas whenever possible (In fact, please tell us what you want to see more/less of in the comments below).
Guests love having exclusive vendors in the parking lot across the street, street-parking blocked off for bikes only, and secure parking for trailers.
All things we will continue to provide.
Our Guest appreciation BBQ Cookout was another popular hit this year. A tradition that doesn't look like it's going anywhere, so don't worry 🙂
Spring 2015
Since the Panama City Bike Rally first began, right here in the Tiki Bar at the Sandpiper Beacon; we've been committed to provided what we call "the ultimate entertainment experience".
To us that means providing everything you need right here, all "under one roof", but still being close enough to all the action.
All we can promise is this; the Motorcycle Rally will ALWAYS have a home here at the Sandpiper Beacon Beach Resort.
It's something we are proud to be such an integral part of, and will constantly strive to improve year after year.
[mashshare]