3 Ways to Get the Most From Your Family Vacation
Your family vacation in Panama City Beach FL is a BIG DEAL. You've been putting money aside all year. Saving up for a much needed, well-earned slice of the good life. Relaxing with a tropical drink in your hand, a cool breeze, and a cloudless blue sky on a warm sunny day, with your toes in the sand.
You want it to be filled with good times, laughter, and memories that will get you through the rainy days back home, until you can come back to relax on the World's most Beautiful Beaches again.
With that in mind, here are some tips on how can can actually MAXIMIZE your family vacation. So read on, and learn how to enjoy MORE time on what's important; relaxing…
---
Choose a Hotel or Condo that's Directly on the Beach
Sure, the website might say it's a "Panama City Beach Hotel / Condo" but is it "directly beachfront?"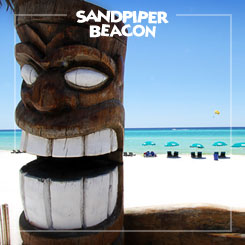 This may sound like a minor consideration, but take it from locals who see it all the time; trying to cross a busy street to get to and from the beach all day, is NO-FUN-AT-ALL. The last thing you want to be doing is waiting for car after car, hopping that "the next one" might just be kind enough to stop and let you cross.
So, simply pick a hotel that's DIRECTLY ON Panama City Beach. Some hotels even have private Villa Townhouses and Beach Houses with your very own back deck, that literally sits right on the beach – letting you walk directly out onto the sand.
---
Stay Somewhere With Things To Do Included in the Price
A beachfront hotel is a wonderful thing… Most even have a single pool to relax around and play in too. But if you've ever been around a kid, or a teenager – then you know that's just not enough to keep them happy and entertained for an entire vacation. After all, as much as YOU need a break, it's important they have a good time too…
Do a little more research, and find a hotel in Panama City Beach that gives you LOTS of ways to have fun, without ever having to leave the property.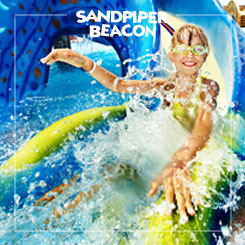 Think; multiple pools, miniature golf, lazy river ride, kiddies pools, waterslides, pool tables, table tennis, beach playground etc. That takes care of the kids and teens, leaving you free to grab an ice cold drink from the Tiki Bar, and get better acquainted with that hammock and book.
Still want more?
No problem – some places also give you daily, planned activities and games to take part in – perfect for the kids to do by themselves, or also for the entire family. The Sandpiper Beacon, for example, offers on-site themed family activities like Sunset S'mores, Family Karaoke, Beach Games & Contests, XBox Kinnect Games, Craft Hour, Seasonal Polynesian Fire-dancing Shows and more.
No more "skipping a day" at the beach, to drive around in a hot car, searching for a place to park, and spending even more money just to keep everyone in the group happy.
---
Are There Any Places to Eat On-Site or Nearby?
It's a fact of life, sooner or later someone in the family will be ready for a bite to eat. Do you round up the family, put the vacation on hold, go to your room, throw on a change of clothes and drive around until you finally find somewhere? By the end of your weekend, all that the time spent coming & going, and the money spent eating out all the time adds up.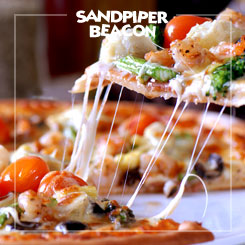 It doesn't have to be that way though. Some hotel-resorts have thought about this, and actually have beachfront diners, delis, ice cream parlors, snack shacks, and restaurants right there, without you ever having to leave. In fact, why not keep your flip flops on, and grab a slice of freshly made pizza, with your toes in the sand.
As well as offering all the things mentioned above, the rooms & suites at the Sandpiper Beacon Beach Resort come equipped with (your choice of) small kitchenettes featuring small refrigerators and microwaves, or fully equipped kitchens. This helps you to save even more money by preparing meals in your room, and less time missing your vacation! It's the Family Vacation in Panama City Beach; perfected.