One of the things that makes a Panama City Beach vacation truly great is enjoying some amazing Crab Legs.
If we just asked you, then the things at the top of your list might be the beach, the attractions, or getting a tan.
But there's something about taking down some delicious Crab Legs that makes it feel like you're really on vacation.
We recently asked our Facebook fans where THEY thought the best place to get crab legs in Panama City Beach FL was.
There were some pretty enthusiastic responses… It turns out there are some die-hard fans out there!
So here are the Top 3 restaurants that won our 2013 Crab Leg battle…
---
#3: Bayou Bills Crab House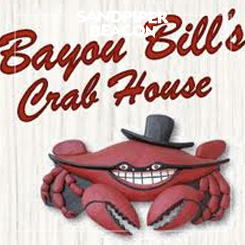 Bayou Bills has been a Panama City Beach staple for over 25 years!
Serving delicious and fresh local seafood, they have it all from stuffed grouper parmesan, to oysters on the half shell.
But the one reason most locals and visitors flock to Bills is for the Crab legs!
Try the 'Crab Feast for Two' which comes with 4lbs of crab. Snow, Dungeness, and Blue Crab all on one platter. Served with corn on the cob & new potatoes.
Come hungry, leave ready to take a nap! 🙂
bayoubills.com
Panama City Beach – 23100 Front Beach Rd          850-235-1010
---
#2: Dirty Dicks Crab House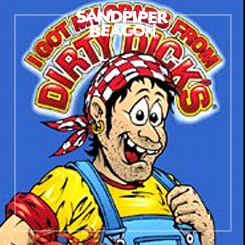 Don't let the name keep you from stopping by!
Dirty Dick's Crab House is all about the fun… In fact, the only thing they are serious about is their seafood.
With other locations in Nags Head, Avon, and Myrtle Beach, the Panama City Beach, FL Dirty Dick's was already a family favorite.
Chow down on a half or full order of the Sno Crab Legs and wash them down with one of their signature drinks.
Then you can proudly tell your family and friends "I got my crabs from Dirty Dicks!".
dirtydickscrabs.com
9800 Front Beach Rd,  Panama City Beach            850-234-3425
---
Aaaaannnnnnddd….
The number one spot goes to, drum roll please…
#1: Capt. Jacks Family Buffet Crab Legs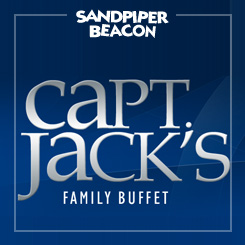 No matter what time of day you're hungry – Capt. Jacks Family Buffet serves a Breakfast, Lunch, AND Dinner Buffet.
You'll be sure to find something for everyone to enjoy.
Capt. Jacks is always a contender when someone asks where to get crab legs in Panama City Beach, Fl.
From the ice cold waters of Alaska to the "Best Seafood Buffet on the beach", you will love sinking your teeth into their beautiful #1 Crab Legs. They are included with every dinner buffet every night.
The best part is, they are ALL you can eat!
captjackspcbeach.com
8208 Thomas Dr, Panama City Beach                   850-236-8555
---