The 4 Ultimate Panama City Beach Hot Dogs!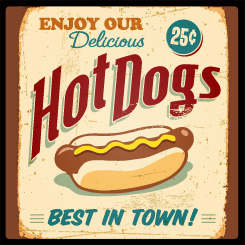 After eating more than our fair share of Hot Dogs over the July 4th holiday, we realized there was a very important question that needed an answer… Who has the best Panama City Beach Hot Dogs?
We know what you're thinking… Panama City Beach is best known for fresh seafood caught in the Gulf, not Hot Dogs – and you're right. But it turns out Panama City Beach is home to some really great places for hot dogs too – ridiculously good in fact…
After reading this, you'll be an expert, and you'll learn about some cool places to take the family next time you're on vacation.
1. Tom's Hot Dogs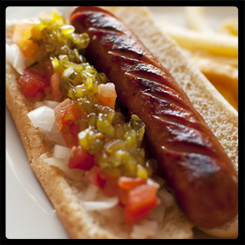 A well-known local's favorite, Tom's is located on Thomas Drive. There's been an 'original' Tom's in downtown Panama City Beach for over 30 years, but this franchise is on the beach. Tom's franks are a mixture of beef and pork, but if you're a connoisseur, you can request an all-beef, turkey, or even a veggie alternative.
The moment of truth: Something magical happens when the rich flavor of the beef mixes with Tom's unique sauce. Throw in the tang of sauerkraut, mustard and onions on a steamed bun – and it's happiness in a bun!.
Our recommendation: For a dog with a twist, try the Scrambled Dog — served on an open bun topped with chili, mustard, chopped onions, Tom's sauce, shredded cheese and corn chips.
2. Chicago Dawgs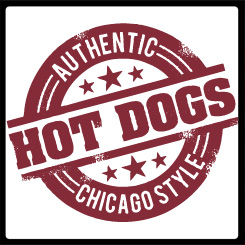 Owned by a true windy city native, Bob Lesniak, Chicago Dawgs offers you a traditional taste of the second city. The franks and buns are all imported from Chicago, while Bob uses a local farmer for all the fresh produce that goes on the dogs.
The moment of truth: Think of the steamed bun and boiled dog as just an entrée that comes with a salad on top! The unique crunch of the fresh vegetables is refreshing, just before the slight kick from the hot green peppers, that is just as quickly cooled by the sweet relish and dill pickle. Expect to want another one!
Our recommendation: The most popular hot dog at Chicago Dawgs is The Works. A Vienna beef dog on a poppy seed bun topped with mustard, ketchup, relish, onions, tomato, cucumber, pickles and hot peppers.
3. Roy's Chili Dogs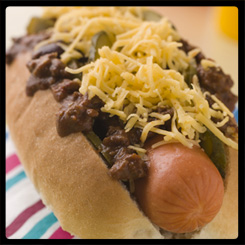 Roy's offers flat-grilled franks that are all beef, or a pork-beef mixture if you prefer. They even offer Hebrew National franks as an upgrade. But it's definitely the chili that's Roy's secret weapon… It's a Texas-style chili, and it's not uncommon for Roy's to sell 20 to 30 chili dogs in a single order!
The moment of truth: Look forward to a spicy, and chunky texture that somehow tastes like home. There's something about these dogs that will take you back to your childhood… Maybe it's the yummy chili that oozes out of the bun and spills down your hand – but whatever it is, it works!
Our recommendation: You can't beat the value of the Chili Dog Special: 2 chili dogs plus fries for less than $5!
4. Dat Cajun Place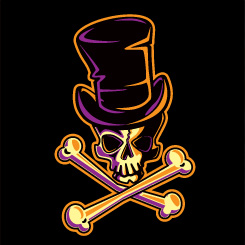 We saved this one for last… Dat Cajun Place sells a dog unlike any other in Panama City Beach – a deep-fried dog called the "Saint Bernard". It's a quarter pound of Boar's Head beef and pork, served on French bread. The options don't end there though, once you pick your dog, you can choose your sauce too, including one called the "Voodoo", which combines mayo, mustard, ketchup, chili sauce, olive oil and a blend of other "secret" seasonings.
The moment of truth: The deep-fried dog was slightly crispy outside, and warm and juicy in the middle. This was complemented perfectly by the fresh, soft French bread. The crunch of the kraut on top sets it all off perfectly. Oh yeah, this dog is HUGE!
Our recommendation: The Voodoo sauce is delicious – but it can make things a little messy, so you'll probably want some napkins handy!
Hot Diggity Dog!
We have to hold our hand sup and admit that we made a mistake by thinking we'd be able to find one, ultimate Hot Dog. One champion that stood out above all the rest. We were wrong.
They are all so deliciously different, and unique in their own way, that picking just one wouldn't be easy…
Maybe we need to try them all again (yes please!)
But one thing is for sure, if you appreciate a delicious Dog, Panama City Beach is a great place to be!