Don't Settle for Anything Less Than Panama City Beach Hotels Right on the Beach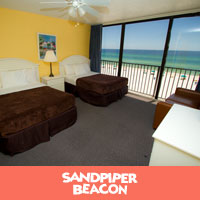 Whether you take one hundred, or just one vacation each year, you still want to make sure it's a great experience you get the most out of.
Most likely, you just get one (if you get one hundred, please let us know how in the comments below!)
So it's even more important to make sure you pick the perfect hotel; because no matter where you eat, or which attractions you visit, every single day starts and ends at your hotel.
---
It's Gotta be Beachfront!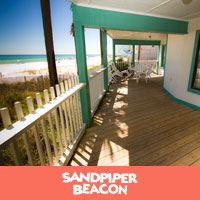 We see this a lot, and it always makes us sad; vacationer struggling to cross a busy road to get to the beach – and cars refusing to slow down to let them cross.
The hot sun is beating down from above, and glaring right back up from the hot asphalt below. It's miserable.
Plus they are battling with the kids being restless and anxious to get to the beach, a huge dolphin float, a full cooler and all the beach towels etc.
The worst part is knowing that they have to fight this battle at least twice per day, more if you leave to grab a bite to eat.
Apart from not being much fun, it's not safe either. It's an unnecessary element of risk that doesn't exist if you can walk directly out onto the beach from your hotel.
---
After All, You Should be Relaxing!
You decided to escape to the beach to leave behind all the stresses and struggles we all deal with – even if its just for a few days.
So the last thing you want to do is deal with those very same things each day on your vacation!
---
What About the Views?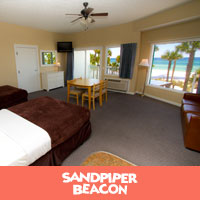 Panama City Beach Hotels that are "just a few steps away from the beach", or located "just across the road" can't do something else important too….
That thing is; provide the best views of the very reason you came to Panama City Beach for: the sugar white sandy beaches, clear blue skies, and emerald-green water.
These hotels can have their advantages though; since you have the extra stress and none of the views – they ought be offer MUCH, MUCH lower rates than hotels which are directly beachfront.
---
Stay on Budget
If your budget is your #1 concern, then not staying directly on the beach may appear to be a better option.
Our advice is to compare the rates of a non-beachfront Panama City Beach Hotel, with somewhere directly beachfront.
If the rates aren't significantly lower to reflect the significant downsides, then you might find that you actually get the best value staying right on the beach after all!
Watch the video below; some of the Rooms & Suites at the Sandpiper Beacon are just steps away from the relaxing hammocks in the tropical Tiki Bar, and actually let you walk directly out of your room and step right onto the sand…