[mashshare]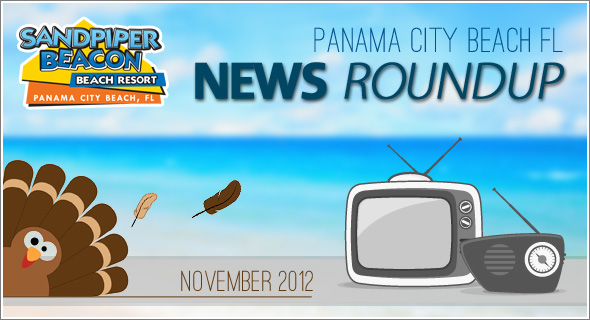 Panama City Beach News Roundup November 2012
14th Annual Panama City Beach IronMan Triathlon ( November 2nd )
Panama City Beach hosted the 14th Ironman triathlon. Athletes from all over the World came to the World's Most Beautiful Beaches. Tickets for the 2013 Ironman sold out in less than one minute!
Celebrating the Arts ( November 3rd )
Local artists market came together to sell artwork to raise funds for two great causes; Beach Care Services and Aaron Nichols.
Classic American Car Show ( November 5th – 10th )
Panama City Beach welcomed another Emerald Coast Cruizin' Classic Car Show. Classic car owners drove to the beach from all around to show off their classic, custom, and vintage cars. The event consisted of five days of live music, contests, specialty vendors, and great local food.
Pier Park Amphitheater Progress ( November 13th )
The final major installment on the Aaron Bessant Park Amphitheater went up with ease. This new amphitheater will be Panama City Beach's new home to live concert performances and the summer concert series.
Wakeboarding Park Announced ( November 16th )
The green light has been given for the development of a new wakeboarding park on a 5 acre pond close to middle beach road – a few short miles from the Sandpiper Beacon.
Panama City Beach Welcomes New Baby Giraffe ( November 19th )
Zooworld Zoological and Botanical Conservatory adopted a new baby giraffe, named Baby G. At just 3 weeks old, this little one already stands at 6'2".
Christmas Tree Lighting at Pier Park ( November 24th )
The community gathered together to take part in the holiday festivities. The grand Christmas tree stands at over 20 feet tall, and is beautifully decorated with more than 1100 lights!
Annual Boat Parade of Lights ( November 24th – 26th)
This years theme was a "Caribbean Christmas". Dozens of boats sailed down the Panama City Marina to the St. Andrews Marina, all beautifully decked out in lights, palm trees, and, of course, even a few bright pink flamingos.
[mashshare]