Check the Weather in Panama City Beach, Florida
Your vacation is booked, and your bathing suit is ready…
Now you just want to know what the weather is going to be like when you arrive in Panama City Beach.
You *could* do things the old fashioned way, and check weather sites for 5 day forecasts, but there is a better way.
See it for Yourself, Live!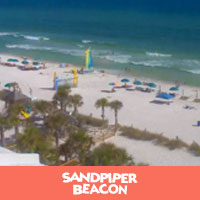 If you want to see what the weather conditions are like, RIGHT NOW, live (and more than just a cutesy little icon) then take a look at our LIVE HD Panama City Beach Webcams.
We have one webcam that points towards to East, and another pointing to the West.
Unlike the other Webcams showing Panama City Beach that just point straight out at the Gulf, our webcams actually let you see both views, giving you an almost 180° view!
Or Forget the Weather & People Watch!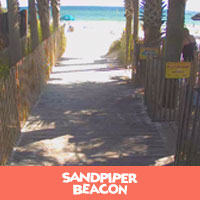 If you've already seen the forecast, or you've already seen our East and West cams, then we also have the Fun Cam.
Catch a glimpse of the white sandy beaches and the crystal clear Gulf waters as guests come to and from the Tiki Bar.
So don't just look at cartoons of the current weather conditions in Panama City Beach, Florida, actually see it for yourself!