Things To Do in Panama City Beach; Winter 2013
While many parts of the country may be white with snowfall and sub zero temperatures, the only white you'll see in Panama City Fl is the 27 mile stretch of pristine sugar white sandy beaches.
Sure, the weather is cooler, but that's exactly what hot tubs and heated pools were made for! 🙂
While you're not basking all day, there's also some fun things to do in and around Panama City Beach.
So if you're visiting during that magical time of the year, read on and start making plans!
---
1. Biggest Loser Run-Walk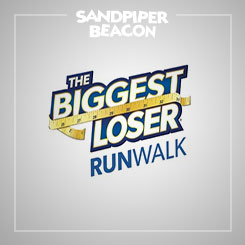 The Panama City Beach Biggest Loser Run Walk first started in 2012. It was such a BIG success, 2013 will mark a triumphant return!
There's really something for the whole family here, from a kids one mile fun run, to a slightly harder 5k race for teams, or single entrants.
Participants get to cross the finish line in style, with live music, and a "Finish Line Festival" with food and drink, and fun the the family.
So mark your calendars for December 29th, and be sure to register ahead of time so you don't miss out!
You can find out more about the 2013 Biggest Loser Run Walk in Panama City Beach, FL here.
---
2. New Years Eve Beach Ball Drop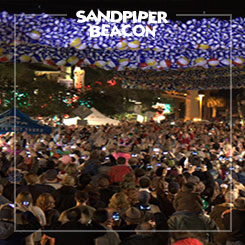 The beach ball drop held at Pier Park each year is something of a Panama City Beach tradition. Lots of people turn up to witness 10,000 inflatable beach balls dropped from the skies to ring in the famous countdown.
But it's the dropping of the giant, 800lb LED beach ball that officially rings in the new year.
You can also expect fireworks, as well as a live orchestra playing a mix of Top 40 hits and classic rock favorites.
---
3. New Years Eve Party in the Sandpiper Tiki Bar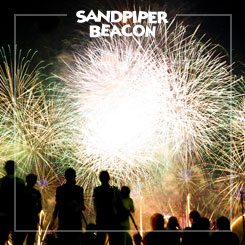 If you don't feel like standing on your feet for hours making you don't lose 'your spot' at the Pier Park ball drop, and then fighting the traffic, stuck in your car as you try to leave for an hour – the New Years Party in the Sandpiper Beacon Tiki Bar might be more your style.
The heated beachfront Tiki Bar will be home to an awesome live band on the main beach stage, family friendly activities, and a party worthy of welcoming 2014 in Style!
With lots of seated areas for the whole family to enjoy, drink specials at the bar, and a perfect, unobstructed view of the fireworks show being shot off from the City Pier.
Call 1-800 488 8828 for more information.
---
4. Winter Resident Appreciation Days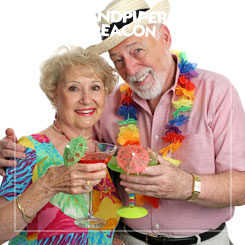 It's the snowbirds that return each year that really make this a special time of the year.
What better way to say thank you, than by showing our appreciation for all our wonderful Winter residents.
Every day may seem like snowbird appreciation day at the Sandpiper Beacon, between the pot luck dinners, beachside bingo, horseshoe games and shuffleboard – there's always something planned to keep you entertained.
In addition, the Panama City Beach CVB invites all snowbirds to join them from 9-11am on Dec. 20, Jan, 17 and 30 and Feb. 30!