Panama City Beach Pirates of the High Seas Festival
Ahoy Mateys!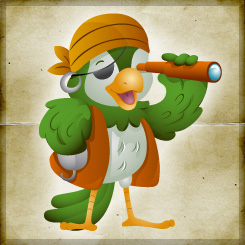 The Pirates of the High Seas Festival is held in Panama City Beach every Columbus Day weekend!
It's a free (and family-friendly) festival, that's super fun and if you have kiddos you're sure to have a good time.
It's also the perfect weekend to get some fun family photos together! Before you know it, the kids will be too cool to go on vacation with you any more!
It seems like almost every coastal town in Florida (like Panama City Beach) has it's own version of a family-friendly pirate-themed festival.
For example, for over a hundred years, Tampa Florida has been entertaining land-lovers at the Gasparilla Pirate Celebration. Promising "pirates, parades, and piratechnics!" This event draws large crowds, and loyal followers return each year.
A little closer to Panama City Beach, the annual Billy Bowlegs Pirate Festival has been held in Fort Walton Beach since the 1950's. So it was only a matter of time before Panama City Beach decided to 'walk the plank' and take the plunge…
Panama City Beach Pirates of the high Seas Festival Video
Shiver Me Timbers!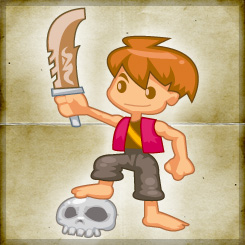 The Pirate Festival attracts vacationers during the cooler months of the Fall season. Columbus Day weekend means many families are looking for something fun to do during the three day weekend. Besides being just a short drive away for many surrounding states, Panama City Beach also has it's beautiful beaches to draw people in.
According to Dan Rowe, President/CEO of the Panama City Beach Convention & Visitors Bureau "For us, [combining] pirates and Columbus Day was very strategic. Pirates over the long weekend, when many school kids are out, was a way to draw more families to Panama City Beach. We hope that folks throughout the Southeast, as well as locally, will come and hang out with us."
Avast me Hearties!
Following the huge international success of the Pirates of the Caribbean movies starring Johnny Depp, pirates have made a big comeback everywhere.
You can even see them at new attractions in Walt Disney World, Orlando. Even Ripley's Believe it or not here in Panama City Beach opened a brand new pirate exhibit recently. Plus the beach has been home to Pirates Island Mini Golf for years now!
"Pirates are a part of our history on the Gulf Coast." According to Gary Walsingham of Ripley's, who said his new pirate exhibit has already been popular with families.
Arrrrrg!
So if you have kids, take advantage of the cooler temperatures and lower rates that come with the fall season. The Pirate Festival might just be the perfect excuse! It's a great reason to come back to the beach and have some fun.
Year after year, there are always festive pirate parades and floats, live entertainers and performers, colorful costumes, and a fun, street party atmosphere.
It's kind of like a kid-friendly Mardi Gras. But it's still fun and cool enough to keep mom and dad entertained at the same time.
Pirate Festival Tips
If you plan to attend, then there's a few things you definitely don't want to miss fun activities including:
Treasure hunt and face painting;
Pirate-themed scavenger hunt;
Balloon making;
Costume contests;
Pet costume contest;
Live Music;
Fireworks Show.
Traditionally, the Pirates of the High Seas Festival's always reach an exciting climax with a pirate showdown on the high seas and a spectacular fireworks show!
Keep your eyes to the skies! During past events, thousands of suspended beach balls have been dropped. Your kids will love trying to snatch them all up!
Pirates of the High Seas Festival Schedule
Friday 7th October 2016
| | | |
| --- | --- | --- |
| Festival Village and Little Pirates Fun Zone | 4:00pm | Grand Theatre Plaza |
| Live Entertainment: Magic with Capt. Mayhem | 4:30pm | Center Stage |
| Kids' Costume Contest | 5:00pm | Center Stage |
| Kids' Parade | 5:30pm | Pier Park |
| Opening Ceremonies and Treasure Ball Drop | 6:15pm | Center Stage |
| Live Music: The Mighty Hurricanes | 6:30pm | Circle Stage |
| Second Line Parade | 7:30pm | Pier Park Drive |
| Fireworks | 8:30pm | Russell-Fields (City) Pier |
---
---
Saturday 8th October
| | | |
| --- | --- | --- |
| Festival Village and Little Pirates Fun Zone | 10:00am | Grand Theatre Plaza |
| Live Music: Rookie Riot | 12:00pm | Circle Stage |
| Live Entertainment: Magic with Capt. Mayhem | 1:30pm | Pier Stage |
| Invasion of PCB | 2:30pm | Pier Stage |
| Live Music: Tom Mason and the Blue Buccaneers | 3:30pm | Circle Stage |
| Main Parade | 5:00pm | Pier Park Drive |
| Live Music: Trop Rock Junkies | 7:00pm | Circle Stage |
| Fireworks | 8:30pm | Russell-Fields (City) Pier |
---
---
Sunday 9th October
| | | |
| --- | --- | --- |
| Pirate Village Opens | 12:00pm | Capt. Anderson's Marina |
| Lil' Pirates Dockside Fishing Clinic | 12:00pm | Capt. Anderson's Marina Dock |
| Live Music | 2:00pm | Stage at Capt. Anderson's Marina |
| Pirate Flotilla/ Grand Lagoon Water Fight | 2:00pm | Grand Lagoon |
| Treasure Hunt Winner Announced | 3:00pm | Stage at Capt. Anderson's Marina |
| Live Entertainment: Magic with Capt. Mayhem | 3:15pm | Stage at Capt. Anderson's Marina |
| Family and Pet Pirate Parade | 5:00pm | Stage at Capt. Anderson's Marina |
| Live Music | 5:00pm | Stage at Capt. Anderson's Marina |
| Fireworks | 7:00pm | Grand Lagoon |
Photos from Past Pirates of the High Seas Festivals