A thrilling new attraction is coming to Panama City Beach in 2018.
Soon, visitors will be able to enjoy a unique perspective and spectacular views of Pier Park and the surrounding area. A brand new SkyWheel attraction will give you views of Panama City Beach from inside a 180 feet off the ground!
That means you can enjoy views equivalent to those you'd get if you were stood on top of the roof of an 18 story condo!
Panama City Beach SkyWheel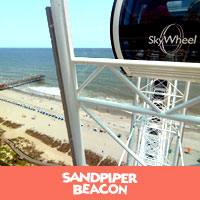 Visitors will be able to enjoy the Skywheel all year round. 30 climate controlled gondolas make sure you stay cool as you ride during the warmer months, and stay warm as you ride during the shoulder seasons. There's no other better to experience 360 degree views of the Gulf.
Rides are expected to last around 15 minutes. No word is released yet on the speed, so it's hard to say how many rotations that will give riders. But we do know that up to 6 adults can fit per gondola.
The SkyWheel is going to be a brand new way to experience Panama City Beach from the sky. Up until now, a helicopter ride was the only way to get a unique birds-eye perspective of the beach.
The Panama City Beach skywheel will be located between the Grand Theater and Dave & Busters in Pier Park. An appropriate location considering how much fun you can have at both those existing Panama City Beach icons.
Attractions For Families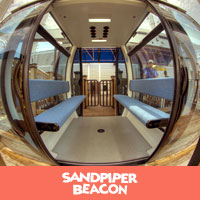 It wont just be the Skywheel that you can try out though. Pier Park will also be home to a brand new three-story zip line experience, a brand new mini golf course and a snack shack.
Ferris Wheels have been an iconic staple at beachfront vacation destinations for decades. This is so much more than a ferris wheel though. The experience will be one that riders will remember for years to come.
There's already similar Skywheel's in operation in both Myrtle Beach and South Carolina. The Panama City Beach SkyWheel will operate year round. Hopefully there will be discount incentives for multiple rides / full day passes available. A night time ride and a daytime / sunset experience would be great to try!
Simon Malls, who owns Pier Park has said that they are "excited for the new tourism it will bring to the beach".
Whether the SkyWheel will be a determining factor in whether people choose to vacation in Panama City Beach or not, it will certainly be a great option for families already in-market.
Pier Park, and the SkyWheel are located just over a mile from the Sandpiper Beacon Beach Resort. A fun, family-oriented Hotel-Resort, with so many planned activities and amenities include din the price, than many guests never leave during their vacation!