Winter Guests, lovingly known as snowbirds flock to Panama City Beach, Florida by the thousand each year. Snowbirds visit Panama City Beach seeking out warm weather, exciting events, fun attractions and pocket-friendly-deals.
The Panama City Beach Snowbirds help support the local economy during the quieter seasons, when tourism generally slows.
Panama City Beach, Florida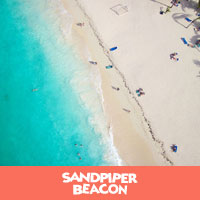 Panama City Beach boasts over 300 days of sunshine each year, and 27 miles of stunning white sandy beach. This appealing combination make it a popular vacation destination all year round.
Spring and Summer are generally the busiest vacation times of the year. During this time, Schools are out and there's a handful of National holidays.
Being such a short drive from so many states, weekends also bring in tourists from thousands of miles around during this period.
When this peak season ends, the shoulder season begins.
The Shoulder Season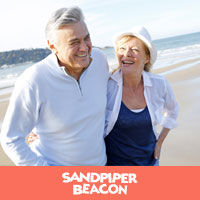 The climate is typically milder between November – February.
This is also when the volume of tourism slows down, rates begin to drop, and Panama City Beach gets much less crowded.
Outside of certain special seasonal events that take place during this time of the year, such as the Motorcycle Rally and Classic Car Show, the pace does slow down.
It's during this time of the year, that the monthly guests visit from the Northern United States and Canada.
Relatively Warm Climate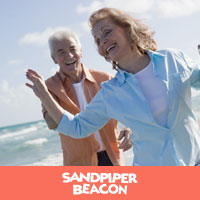 While the Panama City Beach weather may feel relatively cold to locals, in reality it's perfectly mild and comfortable.
Especially when compared to brutal wind-cill factors and sub-zero temperatures up North.
Many snowbirds are looking for an opportunity to escape snow, ice, and below freezing weather conditions.
Visiting Panama City Beach accomplishes that, but it's also great to get to take advantage of much lower accommodation rates and heavy discounts for extended stays.
These are two strong explanations as to why Panama City Beach is so popular with snowbirds, but there are several other reasons to…
It's the perfect opportunity to check multiple boxes;
Travel;
Meet new friends / catch up with old friends;
Escape the brutally cold North;
Take advantage of the best discounts and biggest savings all year!
In addition to the value and warmth, Panama City Beach also offers an abundance of Southern hospitality and timeless charm impossible to find anywhere else.
It's not difficult to see why Panama City Beach remains such a popular destination for winter guests.
Places to Stay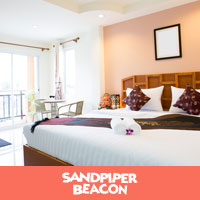 Panama City Beach is certainly not lacking in options of places to stay.
Snowbirds have the choice of Beach Houses, Condos, Villas, Townhouses, Hotels, Motels, and even Trailer / RV Campgrounds.
If there even are any barriers to Winter guests visiting Panama City Beach, it's certainly not accommodation choice.
All the above accommodation places offer competitive monthly rates, which are staggeringly cheaper when compared to the rates they charge at the peak of the Summer season.
When the discounts double-up like this, it really makes the value unbeatable because guests save in two ways;
Heavy per-night discounts based on the extended duration of stay;
Heavily discounted rates due to the time of the year.
Why is the Sandpiper Beacon Beach Resort so Popular Among Snowbirds?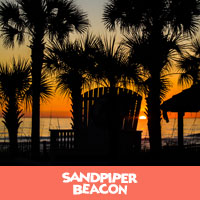 While there may be a lot of different places offering great rooms and suites to snowbirds, one Hotel-Resort stands out from the crowd.
It's located on the preferred West-end of Panama City Beach, between Pier Park Shopping complex and Scenic Hwy 30A.
The Sandpiper Beacon Beach Resort is one of the few places to stay that has ground floor rooms and a pet friendly policy. As well as offering guests over 1,000ft of private beach behind the property.
Another popular draw, are the heated indoor and outdoor swimming pools, a heated indoor lazy river ride, and beachside Hot Tub. Very few places to stay in Panama City Beach offer this, making it very appealing to winter guests.
The Sandpiper Beacon also boasts an oversized tropically landscaped, private back deck, lined with BBQ Grills.
Another one of the most popular selling point of this Resort-Hotel is 24 hour guest service including housekeeping, maintenance and guest services. This combination is extremely difficult to find in Panama City Beach. That peace of mind has a significant value for many snowbirds.
On-site laundry facilities, beachside shuffleboard court, senior-friendly elevators, and two on-site places to eat on-site with room service.
It quickly starts to become clear why a beachfront Resort offering so much included in the price of the stay, would be such a popular choice with snowbirds.
Beachside Tiki Bar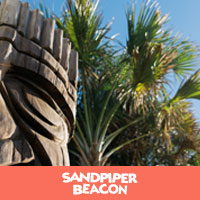 Many winter residents appreciate all the planned activities the Resort provides. A huge tropical Tiki Bar right on the beach acts as the central entertainment hub of the Resort.
Beachside games of Bingo, with prizes and giveaways. Pot luck dinner nights. Live music by great local artists. Happy hour drink specials. Pool tables. Outdoor heaters.
The Tiki Bar is completely open to the public, making the Sandpiper Beacon a popular place for all winter residents to gather and socialize. Very few Hotels have such a comfortable and well-appointed space to meet and socialize in, right there at their Resort.
The Sandpiper Beacon also offers a huge selection of rooms and suites with varying sizes and views. These can all be customized to increase space, kitchen size, sleeping configuration, and view type. So you can customize your room based on your specific needs, and to fit a specific budget.
Oh, and did we already mention that there are also ground floor rooms available? (We did. We just thought it was worth mentioning again).
According to the Panama City Beach Tourist Development Council, the average snowbird visits for 71 days. It's also been estimated that snowbirds visiting Panama City Beach spend approximately $7,600 per couple.
Things To Do For Snowbirds in Panama City Beach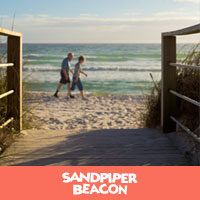 The Sandpiper Beacon Beach Resort is unique in offering it's Winter guests so much to do right there on the property.
Fortunately for Snowbirds staying elsewhere, Panama City Beach has a variety of activities and events.
Various winter programs are put on for snowbirds, such as senior proms, dinner parties, card and games nights, and arts and crafts programs.
The Panama City Beach Senior Center offers lots of activities and a great central place to meet other winter residents. Yoga classes, stained glass windows, painting, card games, dominoes and line dancing. See more here: http://pcbsc.com
The Panama City Beach Tourism Development Council also hosts several Winter guest appreciation days, offering complimentary coffee, donuts and giveaways!
There's also a home coming dance and social evening. This is a great opportunity to meet up with old friends you have met in previous years, or just a great way to meet new people. These are the kinds of events that tend to lead to great restaurant recommendations and comparing places to stay.
So when you're ready to see why the Sandpiper Beacon Beach Resort is such a popular choice among snowbirds, visit http://www.sandpiperbeacon.com or call free, 24/7 on 1-800 488 8828.