Spring Break 2016 Panama City Beach
Unless you have been living with your head in the sand, you have probably heard a lot of hype about how big Spring Break 2016 Panama City Beach is going to be.
There's a lot of focus on the area known as the "Spring Break Capital of the World".
Other popular Spring Break destinations, both domestic and international keep their gaze firmly fixed on Panama City Beach, FL to see exactly how high the bar is set, and what they need to compete with each year.
Famous foam parties, legendary bikini contests at the Sandpiper Tiki Bar, glow paint parties and various beach concerts, there's no way to even miss out on the action by accident.
---
Spring Break Beach Bash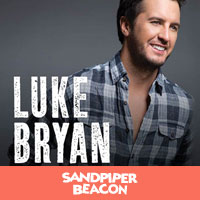 The Spring Break Beach Bash always tries to out-do the previous year in terms of big-name celebrity performances.
Diplo, Kaskade, Luke Bryan, Steve Aoki, and Florida Georgia Line have all performed to sell-out crowds on the main beach stage in recent years.
While the names of the performers lined up for the Spring Break 2016 Beach Bash are a closely kept secret for now, there's little doubt that they will draw huge crowds, and put on an incredible concert right on the beach!
---
Hotels & Condos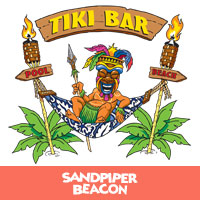 Some Hotel-Resorts and Condos, like the Sandpiper Beacon Beach Resort, have been perfecting their Spring Break game since day one.
The Sandpiper Beacon Beach Resort is not just the only Hotel-Resort in Panama City Beach with it's very own huge beachside Tiki Bar, but it draws a Spring Break crowd each year for even more reasons.
The huge private back deck area, is lined with palm trees, hammocks, and grills. You get access to 24/7 guest service, and over 1,000ft of private beach, multiple swimming pools, and a large beachfront hot tub.
Plus, being one of the few places that rents to Under 25's for Spring Break, as well as offering hotel rooms, larger suites, condos, villas and beach houses that sleep up to 10 people, makes it extremely popular.
Not all destinations, and even fewer Panama City Beach Resorts change gears completely like this, in order to cater specifically to Spring Breakers.
---
Super Clubs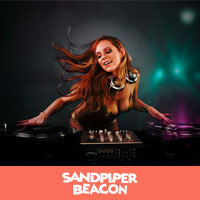 When you are home to the largest nightclub in the USA, Club La Vela, as well as the World Famous Tiki Bar, at the Sandpiper Beacon Beach Resort, it's fair to say you have an advantage over other destinations.
Year after year, thousands of Spring Breakers visit Panama City Beach for a first-hand experience of the popular places they have heard so much about.
Each year, those thousands return home with their own fun stories and experiences about how it not only lived up to, but exceeded the hype…
And the cycle continues.
---
The Beach
Being home to what are Nationally referred to as "The World's Most Beautiful Beaches", Panama City Beach, Florida does have a pretty huge advantage.
Even if you took away the nightlife, the concerts, the celebrity appearances, the welcoming spring break atmosphere, and you were just left with a stunningly beautiful beach… You could still have an amazing time!
---
The Crowds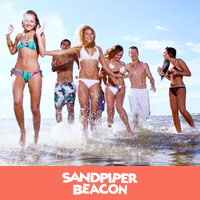 Finally, it's always the people that make Spring Break such a fun and unforgettable experience.
When there's half a million students coming each year to see for themselves how what the legendary "Panama City Beach Spring Break experience" is all about, you know it's going to be a good time!
Students from pretty much every single School, and every state swim in the warm emerald-green Gulf of Mexico waters, and hang out on the famous sugar-white sandy beaches.
Not to mention the dozens of international destinations people come from, including the UK, Germany, France, Italy, Belgium, the Netherlands, Austria, Spain, Portugal and more. Yeah, you know you're doing something right when people are willing to fly half way around the World to see what's up.
When you look at it like that, it's pretty difficult to imagine not meeting a bunch of interesting people you get along with, and stay friends with for years to come.
---
So start planning your Spring Break today. The sooner you book, the cheaper it will be!
Check Rates for free in under 5 minutes at www.springbreakfunplace.com