Deciding where to stay for Spring Break in Panama City Beach, FL isn't as simple as you might think.
You might be lucky enough to recommendations from friends who have been to a  Spring Break in Panama City Beach before, or maybe this is the second year you'll be coming…
But even then, wouldn't you want to try staying somewhere different? With well over a thousand different Hotels, Resorts, Condos, Beach Houses and rentals that are all telling you they are the best, choosing your place to stay isn't as straightforward as it might seem…
Narrowing Down Your Search
Relax.
While it's not as simple as flipping a coin to decide, it's also nothing to get stressed about either. Just take a step back, and ask yourself a couple of questions.
Deciding what you want to get out of your Spring Break experience, and prioritizing the things that are most important to you will make the job so much easier immediately.
Q1. What is Your Budget?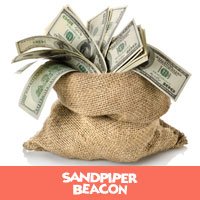 This is easily the most important place to start. Unfortunately, when you're booking for a group of people, the maximum budget each person has probably varies.
You're only as rich as your weakest link, so unless a few of you are willing to throw in a little extra for a friend, the lowest amount is what you're working with.
Having an overall cost figure to work with, or a per-person accommodation budget will immediately shape your list. Then we can narrow it down even further with the next questions.
Unless you're a new breed of Spring Breaker we haven't come across before, you're probably not going to spend the week eating sushi off supermodels, and you wont need anywhere with a private helicopter pad…
Q2. Is There Anybody Under 25 in Your Group?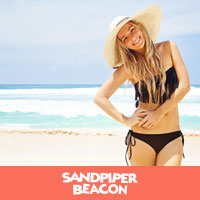 This is another great question to narrow down the field.
There aren't many Panama City Beach Condos, Hotels or Resorts who will rent to Under 25 year olds.
The good news is, you don't want to be staying in those places for Spring Break anyway. If you don't rent to under 25's during Spring Break, then you aren't a Spring Break friendly place to stay…
Lucky for you, you can find places to stay in Panama City Beach that rent to Under 25's with a simple Google search.
Now that you're looking at a much shorter list, you can start being selective about the ones you have left. Do they have pool parties every day? DJs, giveaways, contests & games, a huge private back deck, multiple swimming pools, and a their own club right there on-site?
Asking questions like that is going to narrow down your choices significantly.
Q3. How close to the Beach do you want to be?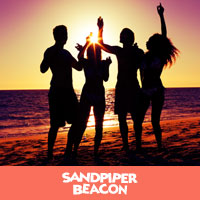 If you're really trying to do Spring Break on a budget, then you can stay in a beachfront hotel in a room without a view, or save even more by staying somewhere that's not actually on the beach.
We're always fans of saving money, but the whole point of a Panama City Beach Spring Break is to enjoy the beaches. Having to walk a few blocks every day in the heat is probably going to get old pretty fast.
So this is a good question to ask your group. Is staying somewhere that's directly on the beach worth spending a little extra money on?
TIP: Some Panama City Beach Resorts and Hotels are beachfront, but have street views, and partial-waterfront views. These are the places that savvy breakers look for, taking advantage of the great location, but still saving money.
Q4. How close to the Clubs do you want to be?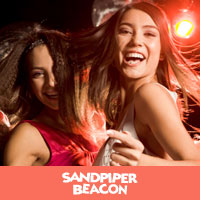 Some of the bigger Condos and Resorts will have stuff going on during the daytime right there. So even when there's no concerts on, you should be able to reliably know that you can lounge at your Hotel, and be sufficiently entertained.
During Spring Break in Panama City Beach, you should be able to expect pool parties, volleyball contents, DJs, and a handful of companies giving away lots of free samples and T-Shirts for their promotions.
Pro Tip: This is a great way to make sure you're staying at a true Spring Break Hotel, vs somewhere that just rents to Spring Breakers… Those places won't have anything going on.
But when the sun drops, you'll want to be able to get to where you're going easily and quickly.
To some, this means always staying as close as possible to Club La Vela. But the reality is, you won't be spending every night there, and by staying close to them, you are placing yourself further away from the bars and clubs you will be spending more time in!
Remember: this is Panama City Beach, not New York City. The furthest cab ride is probably 20 minutes, and split 4 ways, doesn't cost much at all. Stay ANYWHERE you want, and you'll be close to the action. Or, just stay somewhere like the Sandpiper Beacon Beach Resort, which is the only Spring Break Hotel that's also home to one of the super clubs, the World Famous Tiki Bar!
Q5. How big is your group?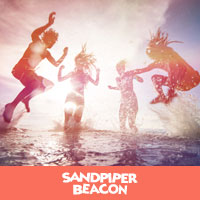 Here's a way you can save a lot of money, that many people don't seem to realize. The bigger your group, the bigger the suite / condo you can get, and use your combined buying power to pay less per-person.
If you have a group that's at least 8 people, you can rule out the Motels straight away, and start to look at 2 and 3 room suites, condos, private beach houses and villas.
This means people get their own bedrooms, a full kitchen, dining area, living room area to hang out in, and private parking.
Okay, so that's nice, but pretty boring, so here's the best part; it's going to work out LESS per-person than if everyone paid for a hotel room sleeping two people.
Don't see the higher price tag of the condo or beach house, and be scared away… You're only going to be paying one eighth of that price! When you look at it that way, you suddenly realize how much extra cash that leaves in your pocket!
Actionable 1. Draw up a Short-list
After you've figured out the answers to those questions, you should already be looking at a much shorter list of contenders for Spring Break.
So hopefully now you're left with a choice between two or three places, instead of twenty!
This makes it much easier to shop around and compare rates, and check availability.
Actionable 2. Read Online Reviews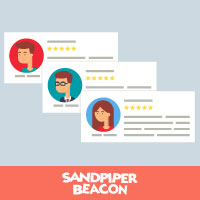 It's always a good idea to look at reviews, and make an educated decision.
There's a skill to this though, especially in ignoring the obvious self-promotion reviews, as well as the crazy people ranting about a minor issue.
The best bet, is to figure out which reviews are from people who had their  Spring Break in Panama City Beach at that Hotel. If they talk about how much there is going on all day and night, and how fun it was, then it should be no surprise that the retired older people staying at the same time complained that it was too noisy and there were "too many kids."
Tip: Looking at WHO left the review is as important as WHAT the review says.
It's still worth looking specifically at the negative reviews too.
Most of the time, the 1 star crowd were upset about something, and that turns into all out war against the place, and suddenly everything was the worst it could possibly have been. These reviews usually aren't helpful or objective.
The 2-3 star range should be a good place to look for recurring problems. Is the pool tiny? Are the DJ's no good? If there's some realistic, and objective complaints you see over and over again, there's probably something to them…
Actionable 3. Shop around for Rates
Unless you've checked out their website before, then this will be your first point of contact with your place to stay.
So a good impression here is probably a good indication of how good the service will be when you stay.
Are they friendly? Can they answer questions about the area? Suggest a good place to eat etc? You might not be as interested in their specific answer so much, as how helpful they try to be in answering your questions in general. If they are short, rude or dismissive when you speak to them, you might not get much better service as a guest there…
So we understand that price is definitely an important factor in deciding where to stay in Panama City Beach, FL… But you also can't beat friendly customer service, and getting a "good feeling" about a place!