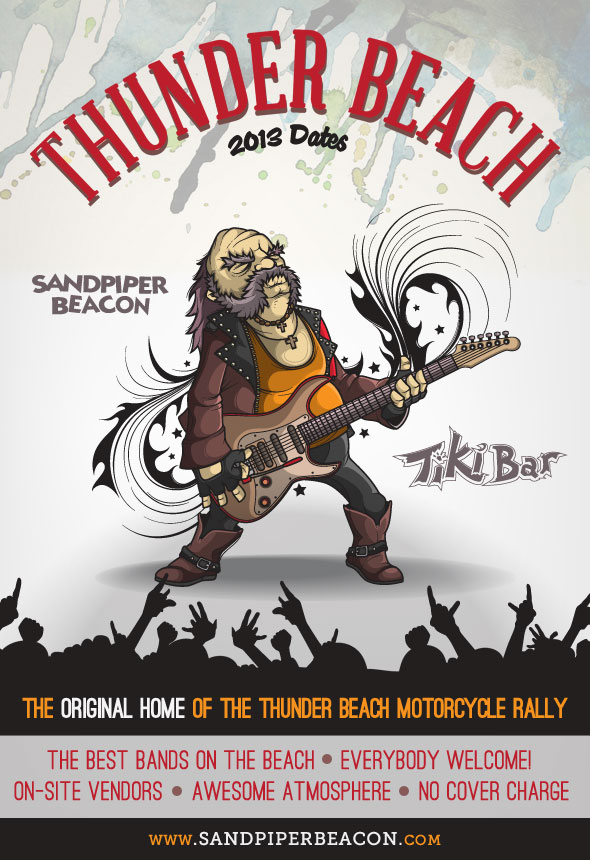 Thunder Beach 2013 Dates
Thousands of Bikers ride to the World's Most Beautiful Beaches each year to enjoy the incredible weather, good times, great bands, World class seafood, and ice-cold beer right here in Panama City Beach Fl. With a growing number of followers each year, Thunder Beach is here to stay, and we like it that way! So whether this is gonna be your first time, or you're a veteran Thunder Beach attendee, here's what you can expect…
Dates
The official dates for the Spring 2013 Thunder Beach Bike Rally are April 30th – May 5th
Bands
We've been doing this since day one… So we've had enough practice by now to know EXACTLY how to put on an awesome show. The Tiki Bar at the Sandpiper Beacon has a reputation for having the biggest, and best bands on the beach during the Bike Rally – and you can't beat the good old fashioned, honest value of being completely FREE to everyone. Always.

Vendors
Keeping our guests happy is what we do – and each year we listen to what you wanna see more of. With that in mind, we handpick an exclusive selection of high quality vendors and set them up right in our main parking lot across the street from the Resort.
Tiki Bar
This is where it all began… With 2 awesome beach stages, concert-like lighting and sound setups, and the coldest beer on the beach – why would you go anywhere else?