Thunder Beach Spring 2013 Schedule
It's almost that time again… Spring isn't just about chocolate eggs and fluffy white bunnies – In Panama City Beach, Spring also means rubber to asphalt, ice cold beers on the beach, and awesome live bands playing FREE concerts.
Engines roaring with power, custom paint jobs and meticulously polished chrome glistening in the warm Florida sunshine, reflecting cloudless blue skies and palm trees. The 2013 Thunder Beach Bike Rally is coming…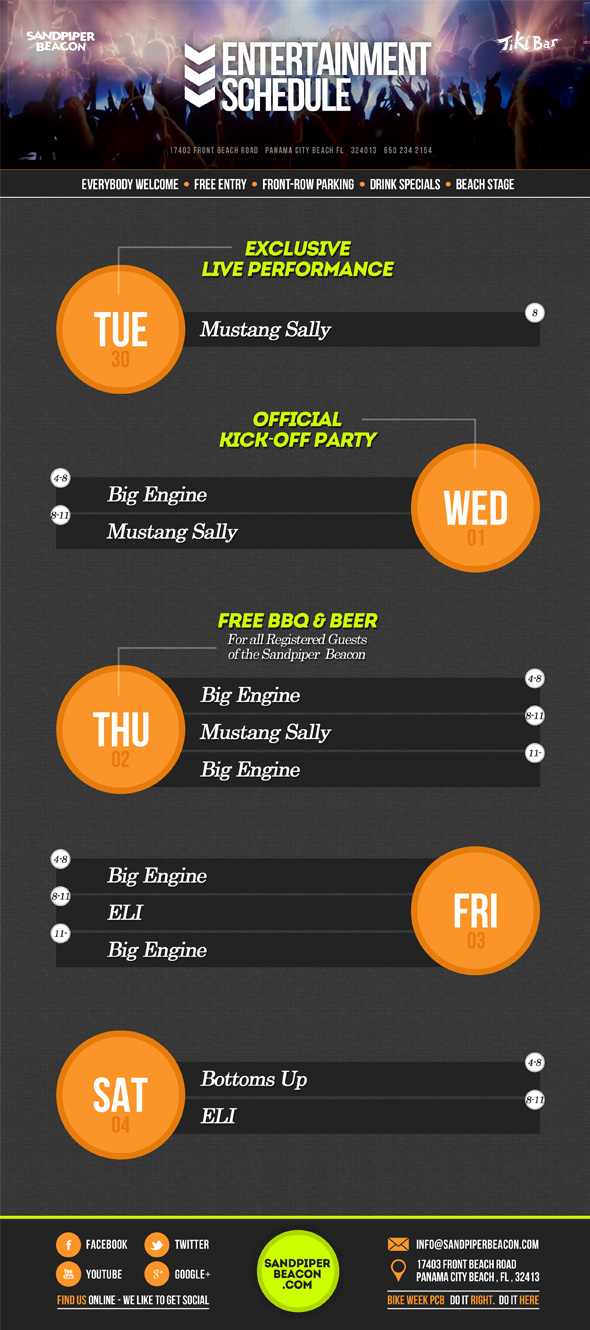 Dates
Spring 2013 Thunder Beach Bike Rally Dates: Tuesday April 30th – Sunday May 5th.
Bands
The Tiki Bar at the Sandpiper Beacon is the ORIGINAL home of the Thunder Beach Motorcycle Rally – so it should come as no shock that we have carved out a reputation for having the biggest, and best bands on the beach during the Bike Rally. Plus, you just can't beat the good old fashioned, honest value of being completely FREE to everyone. Always. Forever.
Vendors
Providing a fun, and energetic environment is important to us. Each year we listen to what you wanna see more of. With that in mind, we handpick an exclusive selection of high quality vendors and set them up in our main parking lot across the street from the Resort.
Tiki Bar
Awesome beach stages, concert-lighting and sound setups, and the coldest beer on the beach (We haven't actually tested this – but they are pretty icy!). The party is here. The best bands are here… and the beach is STEPS away – We'll even save you a seat 🙂