Is This the Best Time of the Year to Visit Panama City Beach, Florida?
We know… ANY time of the year is a GREAT time to visit Panama City Beach 🙂
Panama City Beach is still home to the World's Most Beautiful Beaches no matter what month it is – and each season brings with it different reasons to visit, that appeal to different people.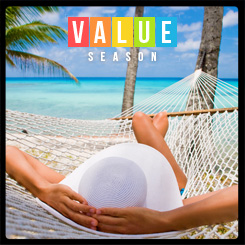 All year-round, chances are there's SOMETHING happening – from the Seafood, Wine and Music Festival, Lobster Festival, Pirates of the High Seas Festival, Spring Break, or any one of the countless other events that make our beautiful vacation destination as interesting and fun as it is beautiful.Even if you don't come for any of the events, there's always the sugar white sand, clear blue skies, endless sunshine and warm emerald waters…
Still – chances are, you can't come all year round and see and do everything… Until you choose those lucky six winning numbers, or find that pot of gold at the end of the rainbow, you're going to have to pick one time of the year to come and play in paradise 🙂
So how do you choose when to visit? Well, how about a time of the year when;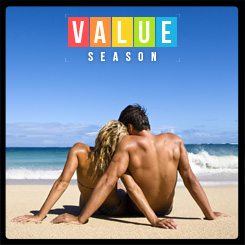 Rates are almost 50% lower than the peak of the busy summer season;
You get to take advantage of FREE Night Specials including Pay 2 stay 3, pay 3 stay 4, and pay 5 stay 7;
Our Activities and Entertainment schedule is just as jam-packed as it is during the summer season…
These are all good reasons why we think the Value Season is the best time of the year to visit Panama City Beach… But if you're not convinced just yet, read on; there's more!
[+] Lower Rates
Just like any other vacation destination, when the peak summer season finishes, rates continue to drop as the year comes to an end. Hotels and Condos in Panama City Beach all start offering tempting rates to try to encourage you to make one extra trip to the beach before next year. If you shop around a little, you can find some amazing deals.
[+] FREE Nights (Yep – FREE!)
Some hotels, like the Sandpiper Beacon, also offer FREE nights to guests with extended stays. The only thing better than a beach vacation, is a free beach vacation! (Well, partially free at least). Some of the FREE night specials the Sandpiper offers include Pay 2 stay 3, pay 3 stay 4, and pay 5 stay 7!
[+] Less Crowded
It's not just the financial incentives that make this the perfect time of year to visit Panama City Beach. The Summer season is typically busiest because that's when many School's are out, and families can take time off work to make a beach vacation possible. So, when the School's are back, the beaches are much less crowded – giving you your own slice of paradise to enjoy all to yourself!
[+] Warm Weather
It's always been known as the local's favorite time of the year… With all the beautiful warm sunshine Panama City Beach is known for, but cooler than it gets during the height of the summer season. It's just perfect!
[+] Less Humid
Sunshine is great, and an essential ingredient in any beach vacation – but most people would agree that the humidity can be a downside. Well, if you're visiting during the value season, the humidity is gone along with the crowds. So lay back in your hammock, and feel the cool breeze and warm sunshine on your skin.
[+] Things To Do
If you've ever stayed at the Sandpiper Beacon before, you know how much there is to do without having to leave the hotel… ever! From the large beachside Tiki Bar, indoor (seasonally heated) lazy river ride, indoor and outdoor pools, hot tub, waterslides, mini golf, arcade game room, grocery store, beach deli, and much more… There's no reason to put your vacation on hold whenever you're looking for fun things to do. Well that doesn't stop during the value season. It's the perfect overlap of lower rates and a full entertainment schedule.
[+] Polynesian Fire Dancing Show!
For the first time ever, this year (2012) the Sandpiper Beacon is also extending the run of the authentic Polynesian Fire Dancing Show, which is free to all registered guests. Typically you'd only be able to catch this incredible live show if you stayed during the height of the Summer season.
What are you waiting for?
Call us today and find out just how much you could save by booking your vacation with us during this incredible Value Season. Our friendly Reservations Team are here 24/7 on 1-800 488-8828 ready to help you 🙂
If you're still not convinced, just take a look at all the FUN THINGS TO DO right here at the Hotel – without you having to leave!