Panama City Beach Hotels
Hotels in Panama City Beach, Florida
You might be surprised at just much choice you have when it comes to Panama City Beach Hotels. With a selection of over 20,000 different Hotels, Motels, Resorts, Rentals and Condos to choose from - you'll be sure to find something that fits exactly what you're looking for!

From cheap Panama City Beach Hotels offering just the essentials, all the way up to spacious condo units with fully equipped kitchens and living areas, and everything in between.

So no matter why you're visiting Panama City Beach; romantic getaway, business trip, or family vacation, you will find a hotel that checks all the right boxes...
Panama City Beach Hotels Near Pier Park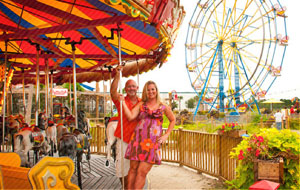 Pier Park is a great central location to stay close to. Offering visitors plenty of parking, and LOTS of incredible dining options, themed bars, great shopping, and fun family activities like the Miracle Strip Amusement Park and Lazer Tag.

We are located just over a mile from Pier Park - a short 5 minute drive, or a 15 minute walk.
Cheap Panama City Beach Hotels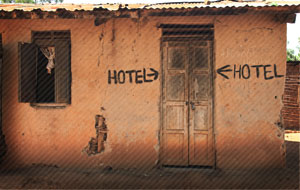 If you re-think the word "cheap" and replace it with "value", then finding a "cheap Panama City Beach Hotel" becomes much easier You probably don't want to stay somewhere that looks and feels "cheap", but you do want to get the most value for your dollar...

That means a Hotel that gives you lots of things to do included in the price of your room without you having to leave to spend money elsewhere. Like multiple pools, great amenities, a huge selection of customizable rooms to choose from, and 24/7 guest service. Not many "cheap hotels in Panama City Beach" can offer all that...

The Sandpiper Beacon Beach Resort can.
Hotels on Front Beach Road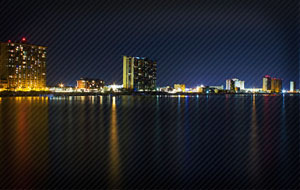 Front Beach Road hugs the beautiful coastline of Panama City Beach. Lined with lots of great bars, restaurants, family amusements, and beautiful sugar white sand - choosing a Panama City Beach hotel on Front Beach road guarantees you're never far from the action... Or the beach!

We are conveniently located on the west-end of Front Beach road, close to Pier Park.
Beachfront Panama City Beach Hotels
There's no better way to start each day of your vacation than waking up to incredible views of Panama City Beach and the Gulf of Mexico. The entire property here is located on the beach-side of Front Beach Road, so there are LOTS of hotel rooms and suites at the Sandpiper Beacon offering stunning views, and private balconies.

We also have partial-view and non-view room choices if you want to keep costs down, and spend your money on things like attractions and eating out instead.
Is there a Panama City Beach Hotel with so much to do, you never have to leave?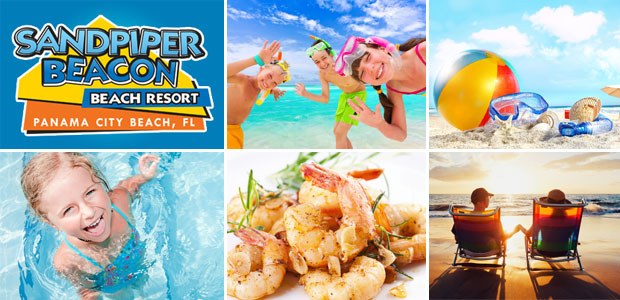 Yes!

Guests who stay at the Sandpiper Beacon enjoy all the benefits of a resort-hotel (24 hour guest-services including housekeeping & maintenance) along with exceptional views of the beach!

PLUS all guests get to enjoy access to multiple indoor/outdoor (seasonally heated) swimming pools, on-site dining, waterslides, a Lazy River Ride, Mini Golf, and LOTS of fun activities, games, and entertainment for the whole family! All at no extra cost.

As well as the typical hotel rooms you'd expect, we also have larger rooms and suites which come with kitchens, as well as private beach houses, townhouses and condos. All these options are perfect for larger groups who like extra privacy, but still appreciate having so much to do right here at the Hotel, that you never have to leave!

Take a closer look at everything we have to offer, and see for yourself why we're also know as The "FUN Place!" to stay on Panama City Beach.
What to look for in a Panama City Beach Hotel
Your vacation is way too important to just settle for the first hotel you find... Here are some helpful tips on what you should look for to make sure you find a Panama City Beach Hotel that makes your beach vacation an unforgettable experience...

Location, Location, Location! Is your hotel directly on the beach? Are there on-site activities / amenities / entertainment for ALL the family? Is there knowledgeable on-site staff available 24/7? Do you have access to several indoor & outdoor pools? Is there FREE WiFi? Verify there are no hidden booking fees Does your hotel offer daily housekeeping? Convenient & adequate parking Late check-in available? Fast elevators?
How to Book a Hotel in Panama City Beach
With so much choice, it can be difficult to make sure the hotel you choose gives you the best value AND makes sure everyone in your group gets the most out of their vacation.

Step 1
Get the group together and find out everyone's top 3 "Must Haves". Kids, teens and adults will probably want stuff to do so they don't get bored.

Step 2
Vote on an overall Top 5 most important things as a group...

Step 3
Start searching the internet!

Step 4
Book direct with the hotel - cut out the middle-man (and his fees!)

With so few Panama City Beach hotels offering it all, narrow your search down to finding a hotel with something for everyone!