Coconuts Restaurant
Seafood, Pizza & More! Now Serving the Best Breakfast on the Beach!
Start your day off right, with the "Best Breakfast on the Beach!" Belgian style waffles, French toast, pancakes, bacon, eggs and grits... It's the most important meal of the day; do it right!
See the Breakfast Menu.


Serving an incredible Lunch & Dinner Menu... Located just steps away from the beach, opposite the Sandpiper Beacon Beach Resort & Tiki Bar. Coconuts is a friendly, laid back restaurant with great service, serving delicious food with a tropical twist.

Kick back and relax as soon as you arrive, with a cool laid back beach-vibe and tropical atmosphere. Everybody's welcome at Coconuts!
See the Full Menu.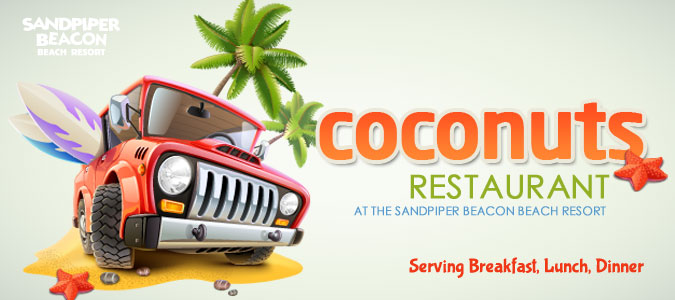 Panama City Beach Breakfast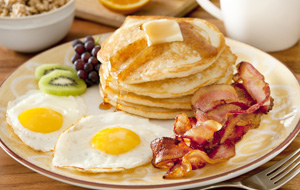 The best breakfast in Panama City Beach is right here at Coconuts. From classics you'd expect to see on any breakfast menu, to fantastic signature breakfast dishes you won't find anywhere else. Make breakfast one of the best meals of your vacation here at Coconuts...

Breakfast Times
7am - 1130am (Mon-Fri)
7am - 1pm (Mon-Fri)
Places to Eat Near...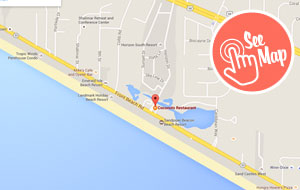 We are ideally located near several hotels and condominiums on the beach, making us within walking distance if you are staying in any of these places:
> Emerald Isle Beach Resort
> Horizon South Resort
> Landmark Holiday Beach Resort
> Seachase Condos
> Palmetto
> Aquavista Condos
> Beachcomber By the Sea
> Tropic Winds Condos

Awesome Appetizers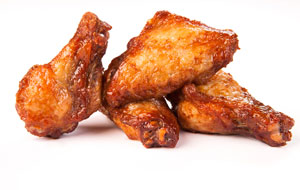 Start your meal off with a selection of our awesome appetizers that are perfect for sharing with friends! Including classic, Southern favorites including fried pickle chips, smoked tuna dip, and fresh crab fingers sautéed in seasoned butter. The perfect way to start.
Delicious Oysters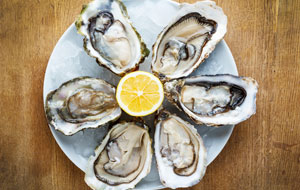 There's only one thing that beats the perfect Oyster; having another 11 to go with it! Whatever your preference is; raw, steamed, Parmesan baked, Rockefeller, or our unique, special "coconuts" style (baked with crabmeat, onion, bacon, parmesan, old bay spice and garlic).
Light Bites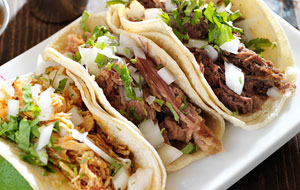 Looking to keep it lighter? Coconuts can handle that too... From healthy salads including the classic Caesar and our signature Coconut house salad. Or how about a delicious and authentic shrimp or grouper po boy, or mahi-mahi tacos garnished with cilantro and chopped red onion.
Signature Dishes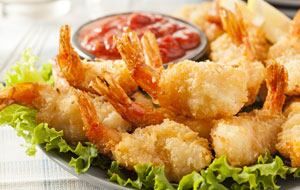 If you're feeling adventurous, try special with a tropical twist, and enjoy flavors you won't find anywhere else. Try our special take on the classic shrimp & grits, discover our "Rasta Pasta", or see why people keep coming back for a heaping bowl of our homemade Gumbo.
Pizza: Perfected!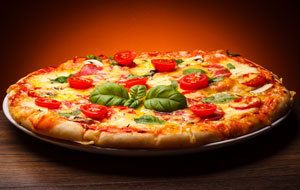 We take our pizza pretty seriously here at Coconuts. From our own mouthwatering specialty pizza creations, to 'create your own'; you won't be disappointed with our fresh hand tossed base and signature mozzarella/provolone cheese blend. We like to think of it as pizza: perfected.
Kid's Menu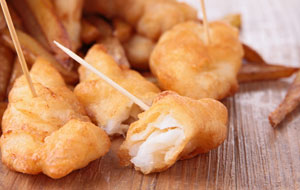 We can fill the smaller tummies in your group too! Our chefs have carefully put together a special kids menu just for the youngsters - with the same quality, freshness and flavor of the full menu. Flaky fish nuggets, chicken tenders, and popcorn shrimp are just a few favorites!