Fastpitch Softball Panama City FL
Annual USFA Fastpitch Softball Tournament
The Sandpiper Beacon is one of the closest beachfront hotels to Frank Brown Park; at just two miles away.

The USFA Fastpitch Softball tournament takes place in Panama City Beach's Frank Brown Park (opposite Pier Park) each year. The USFA World Series attracts teams from all over the country due to the high level of competition and great coastal atmosphere. After all, Panama city is home to the world's most beautiful beaches!

Call 1-800 488-8828 24/7 for your personalized Rate Quote.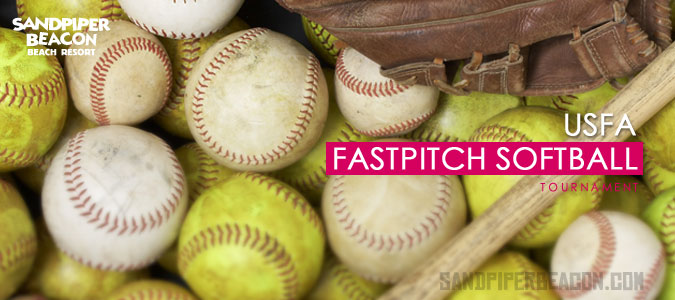 Stay Close to Frank Brown Park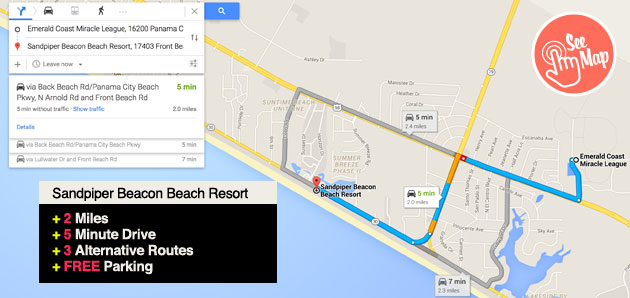 Staying in a hotel that's close to Frank Brown Park means that you're never far from all the action. When you think about it, it just makes sense to stay close to the event venue and avoid all the traffic, save money on gas, and enjoy those precious few extra minutes in bed!
Why Your Team Should Stay Here...
Between the stress of traveling and the pressure & excitement of the tournament, you need somewhere to relax and unwind between games.

The team that shows up more relaxed and ready to play has a serious advantage in the tournament!

If you stay here, the team can relax in our multiple pools, float around the lazy river ride, and play a few friendly games in our on-site mini golf. We also have planned entertainment, games & contests with prizes, fun waterslides, and more!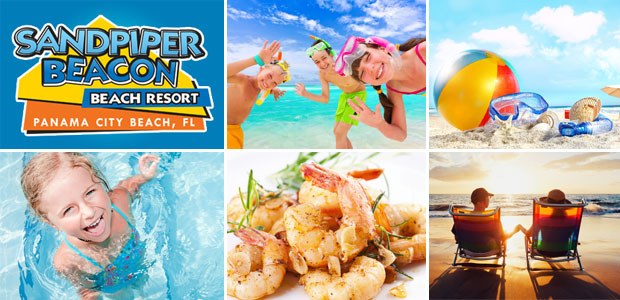 The Sandpiper Beacon is known as the "FUN Place!" for good reason... There's so much to do right here, included in the price of your stay, that many guests never leave... Of course, you're gonna have to leave so you can win your games games!

On-site dining, 24-hour guest service, and LOTS of amenities, activities, games, and entertainment for the team! All at no extra cost.

We realize you're a team, and you have different needs to fmailies. We have rooms and suites perfect for your needs!

As well as beachfront condos, we have 2 and 3 room suites with kitchens, joining suites in the hotel, as well as private beach houses and townhouses. All these options are perfect for larger groups like yours, giving you extra privacy, and helping you save money by splitting the cost of a larger single unit, instead of paying for lots of smaller rooms.

When you take a closer look at everything we have to offer, you'll see how you actually get more and pay less when you stay here!
Close To Pier Park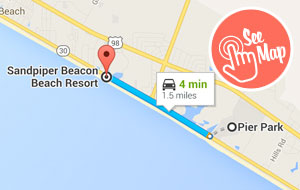 You're gonna need to blow off some steam between games! Whether that's with some retail therapy or watching an awesome movie in the huge IMAX Theater, being less than 5 minutes away from Pier Park means you are spending less time sat in traffic!
Close To Dick's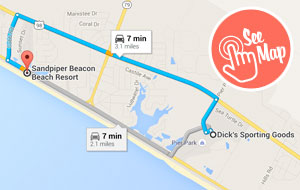 It may not seem like a big deal right now, but when you realize you need something urgently, and how well you do in the game depends on it, knowing you are just 5 minutes away from a huge Dick's Sporting Goods store can give you peace of mind!
Softball World Series Info
The United States Fastpitch Association (USFA) is the authority of the Softball World Series, and one of the main reasons the softball tournaments are so successful in Panama City Beach. The format of the USFA World Series is 5 game format, 3 pool followed by double elimination.

The Fastpitch Softball tournament typically begins with festive opening ceremonies at Frank Brown Park. The USFA Fastpitch Softball teams bring with them a growing legion of loyal fans, which encourages even more sports tournaments to be held in Panama City Beach.