The Iron Man Florida Triathlon in Panama City Beach is truly an International event, with athletes competing from over 30 countries! Hundreds of the World's fittest people arrive in Panama City Beach to compete in this grueling endurance test. Starting with a 2.4 mile swim, and followed by a 112 mile bike route, the Iron Man Triathlon finishes with a full 26.2 mile marathon!

The first-ever Iron Man Florida Triathlon was held on November 6, 1999, as more than 1,500 athletes converged on Panama City Beach to test their mettle. Panama City Beach opens its doors and beautiful white-sand beaches to the athletes, families and fans of the first full-distance qualifier for the following year's Iron Man Triathlon World Championship in Hawaii.
SWIM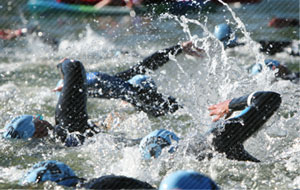 We have a huge tropical beachside Tiki Bar, convenient Ground-Floor rooms, as well as a HUGE choice of rooms and suites, which can all be customized to suit your budget. Ask about our waterfront rooms or street-view rooms...
BIKE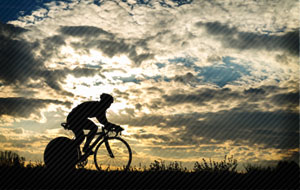 In the Ironman Florida triathalon, entrants must go on to complete a gruelling 112-mile bike ride, following the initial swimming section.