The annual Spring Jam Music Festival, held in Panama City Beach, Florida is an incredible two day country and pop music festival! Huge names and well-known performers arrive in Panama City Beach, for a weekend of live music and ultimate beach vacation!

The dates for the Panama City Beach Spring Jam Music Festival change from year-to-year, but the event is always held close to the Sandpiper Beacon Beach Resort, at Aaron Bessant Park. Call us today on 1-800 488-8828 for your free personalized Rate Quote...
Sandpiper guests can enjoy a great weekend of incredible music... Including some of the top names in the industry. Then, just a short drive from the Resort, enjoy multiple swimming pools, waterslides, a lazy river and on-site planned activities and entertainment.

Headline acts for the 2017 SpringJam include Sheryl Crow & Darius Rucker.

Being held in Panama City Beach, also means you are not far from the World's most beautiful beaches! Enjoy a stunning 27 mile stretch of pristene sugar-white sand and emerald green water.
Spring Jam Tickets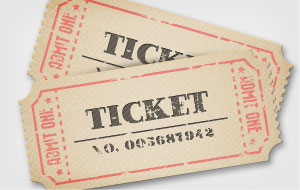 When you buy a ticket for the Spring Jam you are required to present it at the gate on the day of the event in exchange for an event wristband. Do not lose your event wristband, this is now your proof of purchase.

You should also be careful to not stretch it, cut it, or make it appear to be tampered with in any other way. In an effort to avoid wristband resale, the event does reserve the right to refuse entry for what they deem to be suspicious looking wristbands.

Tickets are exclusively available from the promoters of Spring Jam.

Prices change year-to-year, so for the most up to date information, please visit the official website for more details.
Seating Arrangement
None of the Spring Jam concert sections have pre-allocated seating.

This means you're free to find the perfect spot and set up your blankets / lawn chairs and sit anywhere you like.

This open seating arrangement makes for a great way to make new friends!

There really are no "bad" spots in Aaron Bessant Park. Some like to get as close to the stage as possible. But the entire ampitheater area is designed specifically for concerts.

Sound carries clearly over the entire seating area, and the large screens show close ups of all the live action on stage the entire time.
What's Allowed With You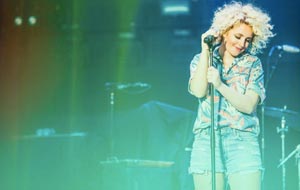 [+] Chairs
[+] One Clear Gallon Bag
[+] One Small Clutch Purse
[+] Hats
[+] Sunscreen
[+] Lighters
[+] Cell Phones
[+] Sunglasses
[+] Cigarettes
[+] Beach Towels
[+] Fanny Packs
[+] Cameras (Non-Pro)
[+] Empty Water Bottles
[+] Umbrellas
[+] Collapsible Wagons.
What's Not Allowed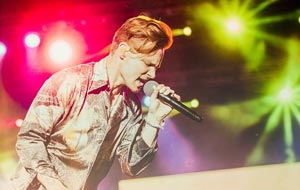 [-] Coolers or Lounge Chairs
[-] Inflatable Furniture
[-] Backpacks or Large Bags
[-] Beach Umbrellas
[-] Camelbaks
[-] Tents
[-] Flags
[-] Outside Food & Beverages
[-] Professional Cameras
[-] Professional Audio Devices
[-] Pets
[-] Instruments
[-] Drugs & Paraphernalia
[-] Knives and Weapons
[-] Chains
[-] Fireworks and explosives.