Teenagers, you gotta love 'em!
They may not be the easiest members of the family to keep happy – but luckily for you, there's PLENTY of exciting attractions and things to do in Panama City Beach FL just for them! 🙂
Here's a short checklist of things that are sure to put a smile on their faces… Even if it is just for a second, before they hide it behind their iPad / Video Games.
1. Race Go Karts
Race City is conveniently located on Front Beach Road. You can't miss it. If you are driving by, you'll definitely see the iconic Golden Gate Go Kart Track, which is actually just one of several tracks your teens can race around at Race City.
Another cool benefit, is the unlimited wristbands you can buy here. These wristbands give you unlimited rides on the day they are purchased – so get there early, and get the biggest bang for your buck! There are also other attractions here, suitable for younger family members too – making it a good choice for all ages.
Race City
9523 Front Beach Rd  Panama City Beach, FL 32407
(850) 234-1588
---
2. Rent Jet Skis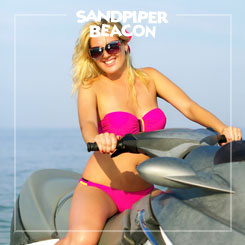 We haven't me a teenager that doesn't get excited by the idea of cutting up the waves in their own a Jet Ski / Waverunner. Panama City Beach, FL has to be one of the most beautiful places in the World you can do this, plus the crystal-clear, calm Gulf waters make it a perfect and safe choice.
Jet Skis can be rented by the hour, or less from many places along the beach.
Adventures at Sea Watersports
5711 N Lagoon Dr  Panama City Beach, FL 32408
(850) 235-0009
---
3. Ride the SlingShot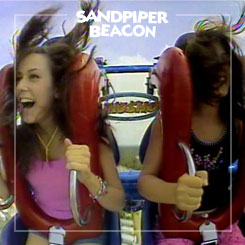 Parents, you might get a kick out of this, especially if you have a grumpy teenager to keep entertained… Not only can you sling them into the air at 100mph, but they will have so much fun that they will actually thank you for it 🙂
"Get in, sit down, shut up, and hang on" is the motto. This high adrenaline experience is one of the unique thrill rides in Panama City Beach, FL that is just as much fun to ride during the daytime, as it is at night.
Slingshot & Indy Speedway
8762 Thomas Dr  Panama City Beach, FL 32408
(850) 234-1121
---
4. Play Lazer Tag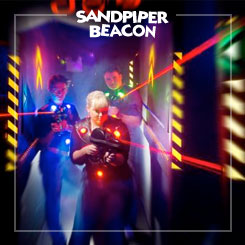 Anything that involves shooting will probably get your teens attention, particularly the boys. Take it to the next level, and tell them they can shoot a lazer gun! Located in Pier Park, your teenagers can let loose inside an air conditioned course with twists, turns and obstacles to hide behind as they try to take out their opponents while avoiding getting shot themselves.
At the end of the game, you get a score report to see who had the fastest reaction times, and who got the most "kills". Since it's indoors, this is also a great way to beat the heat.
Emerald Coast Mirror Maze
701 Pier Park Drive, Suite 107 Panama City Beach
(850) 230-6249
---
5. Survive the SkyCoaster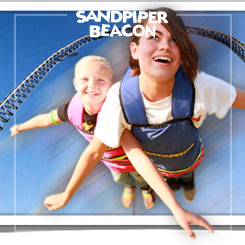 The Sky Coaster in Panama City Beach, FL has to be one of the most unique, and exciting thrill rides and attractions your teens can find. The sensation has been described as a unique combination of a bungee jump mixed with skydiving and hang gliding.
You will be winched up into the sky, and float, suspended almost 140 feet high in the air, with incredible views of the Panama City Beach skyline… Right before you are literally dropped, free-falling towards the crowds below, just before the harness picks you up, swinging you up and out into the skyline.
Race City
9523 Front Beach Rd  Panama City Beach, FL 32407
(850) 234-1588
---
6. Shoot Zombies in an Immersive 7D Video Game / Movie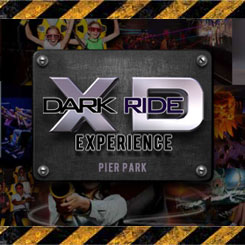 There's nothing else quote like this, and it's definitely gonna put a HUGE grin on your teenager's face, especially if (s)he already loves video games!
Shoot at bad guys using pixel-perfect high precision lasers as the movie unfolds. Your motion seat, with over 400 individual movements per second, accurately recreates feelings of falling and crashing, as strobe lights and wind blasts (successfully) try to distract you and scare you.
You are literally surrounded by the action, from the state of the art surround sound in your individual headrest, to the giant curved IMAX screen wrapped around you.
The whole time, you are competing for the high score, which you'll see once you exit the attraction, on the digital scoreboards outside… If you survive 😉 Located in Pier Park. 
XD Darkride Experience
701 Pier Park Drive, Suite 153, Panama City Beach, FL
Phone (850) 233-0804
---
Is your Hotel teen-friendly?

If you do your research ahead of time, you might even find a Panama City Beach hotel that gives the whole family, including the teens, lots of things to do without even having to leave the property.
The Sandpiper Beacon gives families plenty of ways to stay entertained, all year round, and all included in the price of your stay 🙂
Tropical Tiki Bar
Pool Tables & Ping Pong
Waterslides
Indoor & Outdoor Swimming Pools
Lazy River Ride
Games & Activities
X-Box Kinnect Contests
Arcade Game Room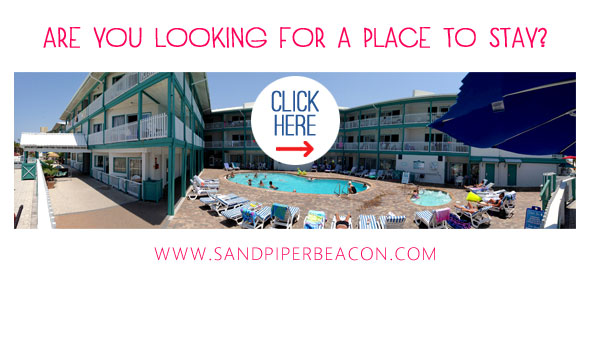 [mashshare]