The Best Crab Legs in Panama City Beach, Florida?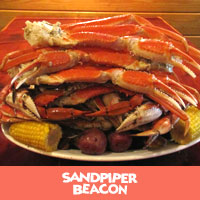 With an almost dizzying selection of seafood restaurants in Panama City Beach, how do you know which are the best ones?
Online reviews are a good place to start. Plus a good reputation & word of mouth help too.
You might also factor in how long a place has been open…
So it's probably a safe bet that a restaurant that's been serving happy customers since 1986 is doing something very well.
Bayou Bill's Crab House
Bayou Bills has PLENTY of good reviews (read on) as well as of those good reputations we mentioned…
Plus, if you've ever heard of the "Crab Feast" then you've heard about Bayou Bills.
The Crab Feast comes served with your choice of Alaskan snow crab legs, blue crabs, and Alaskan Dungeness crab.
Oysters, Po Boys and More
There's much more than all that incredible crab on the menu…
Appalachicola Oysters, oysters on the half shell, and char-grilled oysters are all shucked and served delicious, and fresh. 
If you want to sink your teeth into something fired on the grill, there's chicken, ribs, fish and steak to chose from.
It would be a shame to miss some of their classic dishes, including the Crab Dip and Seafood Gumbo and fresh, locally caught fish (served blackened, grilled, or stuffed). 
With a full bar, the grown ups are happy. A special kids menu for the younger ones makes sure they are happy too!
Don't Forget to Meet the Gators!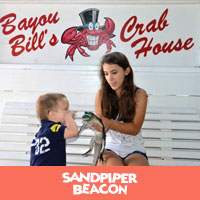 Your Florida vacation wouldn't be complete without seeing some gators… From a safe distance of course!
At Bayou Bills you can meet real live alligators of all different sizes and ages!
Plus, at the Santa Rosa Beach location, you can even get your photo taken with a giant gator!
Why We Love Bayou Bill's
Everybody likes to find that great restaurant that they keep going back to.
Sometime's it's hard to put your finger on EXACTLY what makes a place good enough to earn that.
Other times, it's much easier… Bayou Bills just checks all the right boxes;
Family-Friendly
Quality Food
Great Service
Reasonable Prices
You'll leave with a full tummy, without an empty wallet, and you will have enjoyed your experience…
Bayou Bill's Reviews
Don't just take our word for it. There are hundreds of happy customers talking about how great the place is on review sites like Yelp.com and Tripadvisor.
Jennifer, Fort Smith, AK.
Reviewed July 9, 2015
Went to eat with my family of 8 tonight. We got seated immediately. Everyone in our party enjoyed their food. Service was excellent and food was great. We will definitely return.
HotDog73, Providence, KY.
Reviewed July 7, 2015
Great place away from the busier sections of the beach. We got right in to a seat (5:30ish). Pleasant atmosphere and polite attentive service. We had the crab dip appetizer and the fried platter for two. Better and more fresh than most of the more well known establishments in the area plus a huge amount of food. Way more than we could eat in one sitting. Overall I will definitely come back here.
Learn More About Bayou Bill's Crab House
Bayou Bill's Crab House
23100 Front Beach Rd
Panama City Beach, FL
32413
(850) 235-1010
http://www.bayoubills.com