Ripley's Believe It or Not! Panama City Beach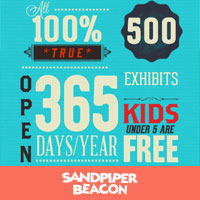 If you stop by Ripley's Believe It or Not! Panama City Beach, then you 'll find something to do to keep everybody in your family entertained!
You might think that it would be hard to find somewhere that actually keeps all ages genuinely entertained for hours.
If so, you'll be pleasantly surprised to learn that there is an attraction in Panama City Beach that checks all the right boxes, and packs a pretty powerful punch of awesome too; Ripley's Believe It or Not!
Kids under 5 get in free, and it's open 365 days a year. So no matter what time of year you visit Panama City Beach, you'll be able to pick your jaw up off the floor! 🙂
Address
Phone Number
Website
Ripley's Believe It or Not!
9907 Front Beach Road
Panama City Beach, FL
32407
(850) 230-6113
Visit Website
Combo Ticket Prices / Coupons. Bundle Multiple Attractions & Save
| Combo | Ticket Prices |
| --- | --- |
| ODDITORIUM + 7D THEATER (Adult) | $22.99 |
| ODDITORIUM + 7D THEATER (Child) | $17.99 |
| ODDITORIUM + MAZE (Adult) | $22.99 |
| ODDITORIUM + MAZE (Child) | $17.99 |
| 3-WAY COMBO (Adult) | $25.99 |
| 3-WAY COMBO (Child) | $20.99 |
| 4-WAY COMBO (Adult) | $28.99 |
| 4-WAY COMBO (Child) | $23.99 |
---
The Odditorium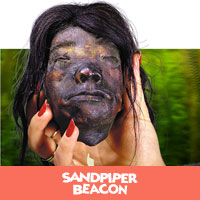 Ripley's Believe It or Not! is home to the Galleries of the weird, strange, and bizarre!
This is the attraction that typically comes to mind whenever people mention Ripley's.
Expect to see things like shrunken heads, a larger-than-life Captain America sculpture made of scrap car parts, a vampire killing kit, tons of hands-on interactive exhibits, and (of course) a floating car!
It really doesn't matter how old you are, with 500 exhibits, you'll come across something that leaves a lasting impression in the Odditorium!
Expect a complete tour of the Odditorium to last between 1 and 2.5 hours.
---
7D Moving Theater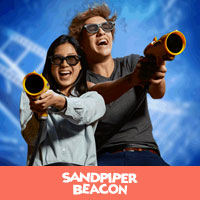 Now here's a Panama City Beach attraction that's as unique as it is awesome!
All you have to do is decide if you want a Pirate adventure, or a Zombie experience! Or, you could just experience both!
The 7D Moving Theater's motion seats will bump, dip, and shake you as the action on-screen unfolds and you shoot your way through the story.
The combination of the motion seats and state of the art effects really make this a fully immersive experience.
Pirates, zombies, expectant mothers and people with certain medical conditions are advised not to ride…
---
Mirror Maze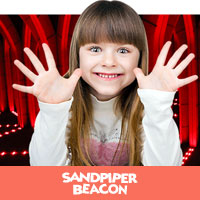 You'll have to team up with the family and work together to try to find your way out of this labyrinth of mirrors and LED lights.
If you see that you're walking directly towards yourself… You're probably going the wrong way! 🙂
Search parties are sent out frequently, so don't panic.
They'll find you! 😉
---
LaseRace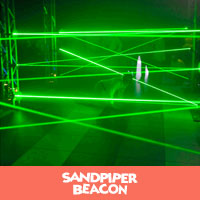 Way trickier than it sounds, the LaseRace Challange will test your agility, speed, and skill.
You'll feel like you're on the set of a Mission Impossible movie as dozens of bright green lasers shoot out of the walls, searching for movement.
Don't stand around too long though, you'll need to duck, dive, dip and dodge your way around the web of lasers as quickly as you can, to reach the end.
Just before you exit, a stop button completes your challenge and determines your final score… A great way to compete with your group to see who's the fastest!
---
Learn More AboutRipley's Believe It or Not! Panama City Beach
Ripley's Believe It or Not! Odditorium
9907 Front Beach Road
Panama City Beach, FL
32407
(850) 230-6113
http://www.ripleys.com/panamacitybeach