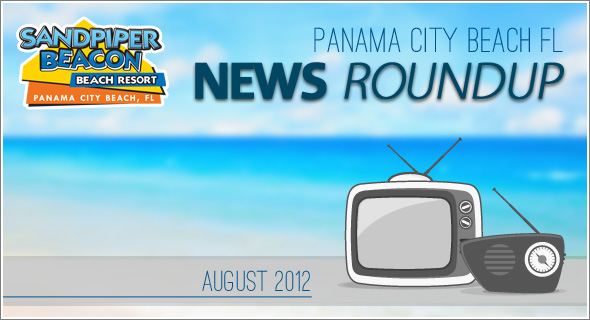 Panama City Beach News Roundup August 2012
Take a look back on the major news stories affecting Panama City Beach in August 2012. From the Biggest Loser coming to the beach, to dodging hurricane Isaac. This summary is the best way to quickly see everything that happened, and catch up on all the latest Panama City Beach News!
ZooWorld Seeking Replacement Giraffes
( August 8th )
Following the tragic loss of Panama City Beach icon, Sydney the Giraffe in July, ZooWorld announced plans to bring in a successor, maybe even 2. This will be a big investment for the not-for-profit organization though, as a male giraffe can cost around $25,000 while a female giraffe can cost as much as $60,000 according to ZooWorld's Assistant Director.
NBC's The Biggest Loser Will be Landing in Panama City Beach in December ( August 12th)
The announcement is made that "The Biggest Loser Half Marathon and 5K RunWalk" will be held in Panama City Beach, Florida. Dan and Jackie Evans – season five contestants on NBC's hit show, "The Biggest Loser" will be promoting and taking part in the event.
St. Andrews Named Florida's 3rd Most Visited State Park ( August 16th )
The Florida Department of Environmental Protection announced that St. Andrews is officially the 3rd most visited state Park, having welcomed nearly 681,000 visitors in fiscal year 2011.
Panama City Beach Icon, Casey the Parrot Dies
( August 25th )
The Sandpiper Beacon's beloved Macaw, Casey passed away peacefully. She had been with us since 1992 when we brought her in as a rescue. She loved meeting guests, saying Hello and Goodbye and making many memories throughout the years.
Ocean City Fails to Steal Bikini Record – Blames "Bad Weather" ( August 25th)
Ocean City makes history with a failed attempt to claim the Bikini Parade World Record from Panama City Beach. The existing World Record was set right here at 450. Ocean City only managed an itsy-bitsy, teeny-weeny 215. Earlier this year, City Councilman Brent Ashley set a very ambitious target of 2,012. Going even further, to say "If we can't beat 450, we've got a problem." Hey Brent… You might wanna call Houston 🙂
Believe It Or Not – Teachers Go Free!
( August 28th )
Popular Panama City Beach attraction, Ripley's Believe It Or Not announces that they will be offering all current Florida kindergarten through 12th-grade employees, including public, private, home and charter schools, free admission to all their Florida locations, in order to "commend educators for the tremendous job they do."
Close Call With Hurricane Isaac! ( August 29th )
Panama City Beach is fortunate enough to avoid the direct impact of Hurricane Isaac. Our hearts go out to all those who are being affected by Hurricane Isaac.
Happy 40th Spinnaker!
( August 31st )
Panama City Beach Club: Spinnaker, prepares for it's 40th anniversary celebrations with live bands, food and drink specials, and giveaways.