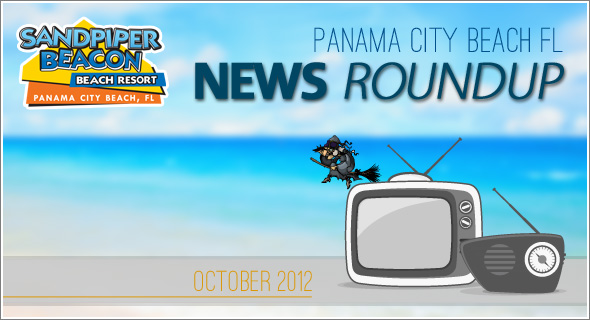 Panama City Beach News Roundup October 2012
Pirates of the High Seas Festival Invades Panama City Beach ( October 4th – 6th )
Featuring a variety of parades, sword-swinging showdowns and dueling fireworks display, the Pirates of the High Seas Festival is a popular annual tradition for families. There were lots of fun activities for kids and adults of all ages to enjoy.
Interactive Media Set to Top Panama City Beach's 2013 Marketing Budget ( October 8th )
The Bay County Tourist Development Council (TDC) and Panama City Convention and Visitors Bureau is planning to spend a third of its budget on interactive media during 2013. Traditional media, such as television, radio, print and billboards are still in the mix, but technology will be leading the way in which Panama City Beach is promoted.
Visit Florida Names Panama City Beach 4th Top Leisure Destination ( October 9th )
Panama City Beach FL ranked as one of the top Florida leisure destinations, ranking 4th – behind Orlando, Miami, and  Ft. Lauderdale. That is according to a study by Visit Florida, the state's official consumer web site.
Harley Davidson Breaks Ground in Panama City Beach ( October 12th )
After 7 years of planning, the official groundbreaking Ceremony took place for a Harley Davidson dealership in Panama City Beach. The dealership expects to be open in time for the 2013 Spring Thunder Beach Motorcycle Rally.
Thunder Beach Motorcycle Rally ( October 9th – 14th )
Panama City Beach celebrated another successful motorcycle rally. Sandpiper Beacon guests enjoyed the traditional guest appreciation cookout, as well as a lineup of awesome headline bands including ELI and Mustang Sally performing on center stage in the beachside Tiki Bar.
Panama City Beach Seafood & Wine Festival
( October 24th – 28th )
Panama City Beach Seafood and Music Festival: UNwineD 2012. The event took place at the Capt. Anderson's Marina. The five-day festival held each year celebrates seafood, fishing, culinary arts, music, entertainment, arts and culture in Panama City Beach.
Beach Sidewalk Development Project Announced
( October 25th )
A $39,000 project was approved to add a new 8 foot wide sidewalk between Spinnakers and Club La Vela to help foot traffic, and bring some order to the busy spring break crowds that gather in the area.
The Circus Arrives
( October 27th )
Cole Bros. Circus of the Stars arrived at Frank Brown Park Saturday afternoon. Attractions included human cannonball, aerial ballet, royal Bengal tigers and the Thunder Dome, a motorcycle chamber of danger.