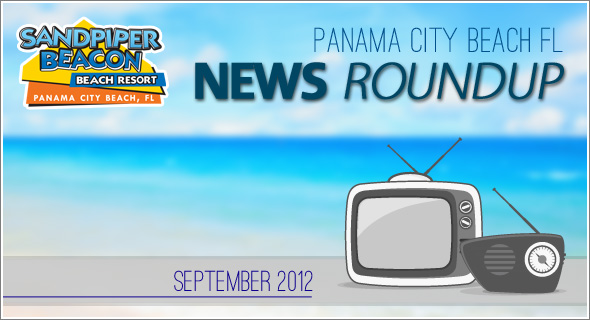 Panama City Beach News Roundup September 2012
Fine Dining in Panama City Beach
Firefly Restaurant was honored as one of Americas most popular high-end Restaurants. This makes Firefly one of just 250 that were selected from 600,000 across the nation!
Oyster Shortage?
Due to the high demand and temperamental weather this past few months, conditions have made it difficult for oysters to populate. However, the new crop for next summer and fall are looking promising and getting started.
Panama City Beach's 23rd Annual Lobster Festival
( September 13th )
This years biggest Spiny Lobster weighed in at an impressive ten pounds! Each year the Panama City Beach Lobster Festival gets bigger and bigger, with great food, drink and sand sculpting contests.
Panama City Beach Welcomes Conor Dwyer and Ryan Lochte ( September 15th )
Olympic Gold Medalists, Conor Dwyer and Ryan Lochte visited Panama City Beach to help raise money and awareness for the Mac Crutchfield Foundation. This humble group is raising money for college swim scholarships and the special Olympics.
Teachers go to WonderWorks for Free
( September 21st )
Teachers were able to go to Panama City Beach attraction, and iconic landmark; WonderWorks for FREE! The promotion was intended as a way to show teachers appreciation for all of their hard work.
Panama City Beach Marks Hurricane Eloise's 36th Anniversary ( September 23rd )
The first day of Fall also marks the 36 year anniversary of Hurricane Eloise. She had made a sudden turn off her projected path and landed on Panama City Beach. Ever since, the city has reinforced, rebuilt, and encouraged people to stay prepared during hurricane season.
38th Annual King Mackerel Tournament
( September 28th )
This year, the mackerel tournament enjoyed a great turnout, and the winner took home a $25,000 catch, for having the largest King Mackerel at weigh-in!
ZooWorld Offers $1 Admission  ( September 29th )
Zoobilee at Panama City Beaches very own Zoo World and Botanical Garden had $1 admission per person. All the one dollar donation (and the higher ones) went straight to helping and caring for the animals within the park.
Panama City Beach's Pirates of the High Seas Festival ( September 30th )
The Pirates of the High Seas Festival began on the 3oth and will continue until November 6th. The events at the festival include fireworks, parades, swords, and showdowns, and will take place in Pier Park. So grab you best pirate gear and head on out, maties!