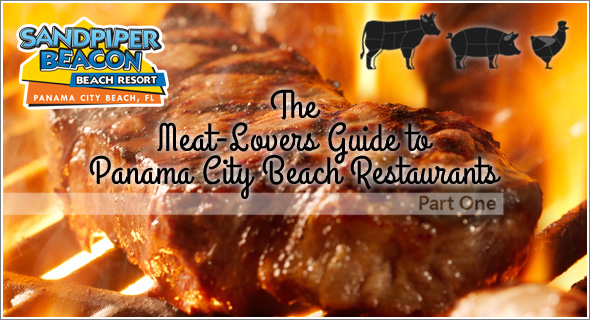 Hook'd Pier Bar & Grill
Panama City Beach Steak Restaurants do not disappoint. Don't be fooled by the name… Or the location (RIGHT next to the City Pier) Or the appearance of Hook'd… You could be excused for thinking their menu was made up exclusively of things with fins, that were swimming around not too long ago… But that's where you'd be missing out. Sure, there are PLENTY of seafood options on the menu, and they have a reputation for some crazy-good Fish tacos… But that's not what this is all about.
One of the greatest surprises Hook'd has to offer is their handmade burgers, and the king has to be the half pound Angus Burger that sits proudly on top of their 'Burgers/Sandwiches/Wraps' portion of the menu.
Premium cuts of succulent Angus Beef are freshly grilled to perfection (pink, hot and juicy on the inside – or more well done if you prefer). If you consider yourself a burger connoisseur  you've gotta try this bad boy…
Once you realize just how good it is, we'll forgive you for thinking Hook'd should be a burger joint instead!
Pro Tip: For extra meat-lover points, request that your burger is lovingly covered with a crispy hickory smoked bacon-blanket… You wouldn't want it getting cold, would you?
---
Sunnyside Grill
Home-Cooked goodness, served by friendly staff at reasonable prices. Everything about the Sunnyside Grill makes it a restaurant you might consider to be "worth trying" – and chances are, you'd be back for more.
The reason is makes our "Panama City Beach Steak Restaurant" list is simple… There's a breakfast dish on the menu that would make a butcher blush. Fried eggs, bacon, ham, sausage, kielbasa, AND steak. You can watch the kids enjoy their  pancakes, french toast and waffles – while you get down to the serious business of eating your way through the small farm on your plate!
If you take your carnivorous ways seriously, and we'll assume you do since you are reading this, Panama City Beach's Sunnyside Grill has a breakfast that will set you up for the rest of the day!
---
Deadeye Dick's Steakhouse (Update: This has now closed)
Panama City Beach Steak can be enjoyed at several steakhouses, from franchises to independent, family-run businesses. The list of steak restaurants also includes places that will leave a serious hole in your wallet – Deadeye Dick's is not that place.
The salad bar is impressive – impressive enough to mention, but let's get down to business; we're here to discuss meat. They offer the same cuts you'd expect to see on any respectable steakhouse menu, but the star of the show (despite the prime rib being a very close second) is the Cap Steak.
If you've never tried this before, it's about time you learned just why it's been called "the tastiest cut on the cow". The cap of the ribeye, also known as "butcher's butter" is simply the richest, butteriest, tenderest, beefiest morsels of steak you will ever put in your mouth. To sum it up, ribeyes are the most flavorful premium steak available, and tenderloin is the most tender (duh). Well, the ribeye cap has the best of both worlds. All the flavor and juicy fat of a ribeye, with the tenderness of a tenderloin.
The steak Gods smile every time you order this.
Pro Tip: Start the evening off early next door at "Dirty Dicks" (walking distance). Grab a round of drinks at the bar, then use your receipt for an impressive 15% discount off your meal!
---
Boars Head Tavern
Located just 5 minutes from the Sandpiper Beacon, and the World Famous beachside Tiki Bar, the Boars Head Tavern is a true Panama City Beach gem. Locals looking for a quality meal, and the finest cuts of meat will usually have the Board Head as a contender.
Yes, they serve freshly caught seafood on the menu, but let's not hold that against them… The Prime Rib served here is so good, you might lose sleep at night over longing for it. It's one of those meals you will compare all other meals to, and measure against. 2 options face you after ordering the Prime rib – the Lord's cut, or the Ladies cut (slightly smaller). When the time comes, you'll know what to do…