[mashshare]
10 Awesome Things To Do With Kids in Panama City Fl
Panama City Beach has always been a great vacation destination for people looking for LOTS of family-friendly fun.
Generations of families have been returning to the 'World's Most Beautiful Beaches' for years. People who once came to the beach as kids with their parents, now return with their kids, keeping the family tradition going. Even first-time visitors to the beach have plenty to look forward to, and if you have kids along for the ride, then chances are you'd like some ideas for some FUN things to do.
Well you came to the right place!
After reading this, you will feel like an expert on places to take your kids to make sure they have the best possible Panama City Beach vacation experience…
So what are we waiting for? Let's get started…
---
Ride Go Karts, Play Mini Golf, Brave a Haunted House and more…
You'll definitely put some smiles on faces when you pull into Race City – 'Panama City Beach's Largest Fun Center & Arcade'. There's tons of different Go Kart tracks for your kids to race around – including a special "Kids Kars" track, just for the younger, smaller ones. But there's more than just racing to do at Race City, including indoor blacklight mini golf, bumper boats with squirt guns mounted, bumper cars, a really big indoor arcade that has all the classics like skee-ball (with prizes like GPS systems, iPads, and iPods), and the only Haunted House in Panama City Beach! If that's not enough, try the Skycoaster ride, which they claim feels like a "thrilling combination of a bungee jumping and skydiving".
Race City
9523 Front Beach Rd Panama City Beach, FL 32407
(850) 234-1588
Visit Website
---
Sail the Seven Seas as a Pirate
Have you ever met a kid who didn't love pirates? Next time you're in Panama City Beach, become the World's greatest parents by letting your kids become honorary pirates for the day. Captain Fearless Phil and his crew of sea dogs are waiting to take the family out on their beloved vessel, The Sea Dragon. This pirate ship is an incredible replica of a genuine cargo ship from the 1700's (and it looks awesome!) The Sea Dragon runs daily dolphin cruises (lasting around 2 hours) for a fair price, plus there's LOTS to keep the kids entertained on-board, like kid-friendly treasure hunts, firing canons, and the occasional swashbuckling sword-fight. Don't worry… there's no shortage of cocktails for mom and plenty of cold beer for dad too! So what's the best part? Your kids will have lots of fun, AND be completely exhausted at the end of the cruise!
Sea Dragon Pirate Cruises
5325 N Lagoon Dr Panama City, FL 32408
(850) 234-7400
Visit Website
---
Swim With Dolphins…
If you want to swim with dolphins (and trust us, you do…) then you need to stop by Gulf World. The kids will LOVE it. Really… between the shark feedings, alligator exhibit, stingray petting pool, handling boa constrictors, and evening magic shows (not offered every night of the week), the kids won't even have chance to get bored. What's even better… the whole time they will actually be learning. Yes, learning! But they won't be complaining, or bored – because IT'S FUN, interactive, and they get hands-on involved. The really cool part is that your ticket is good for the whole day, meaning you can come and go if you want to, without having to pay re-admission. AND… (yeah, there's even more) Gulf World even offers a fun and affordable Dolphin Day Camp – so you can leave your kiddos in good hands all day, and go and enjoy some time to yourselves.
Gulf World Marine Park
15412 Front Beach Rd  Panama City Beach, FL 32413
(850) 234-5271
---
Fly High with a Helicopter Ride
Now this is special… A trip with the guys at Panhandle Helicopter will be an unforgettable vacation adventure for the kids. They will always remember the excitement of their first helicopter ride. Plus, if you already think Panama City Beach is beautiful – you should try seeing it from up in the sky (It's a whole new experience!) The helicopters are big enough to fit a family of four comfortably, letting you all share the experience together. But that's not all… Your kids will love hunting for sharks and dolphins in the Gulf as you fly along the coastline. Plus, they will feel like a REAL pilot when they get to wear their own headset and interact with the pilot along the way. This really is a fun and memorable activity that is just the right speed for kids and adults to enjoy together.
Panhandle Helicopter
15726 Front Beach Rd, Panama City Beach, FL 32413
(850) 230-2080
---
Believe It… Or Not
Your younger kids and teenagers will all enjoy exploring the weirdest museum in Panama City Beach. You will even enjoy it! That's because Ripley's is packed full of all the bizarre exhibits and "oddities" that you would only expect to see in a museum of the unusual and macabre. You will be so caught up in the weird and unique displays, that you won't realize you're probably learning something new at the same time. Plus there's always the Laser Race and 4D Theater to really capture the kids' imaginations. Even the building is cool, a fun Panama City Beach landmark, Ripley's museum is housed in what looks like a sinking ship, opposite an upside-down house!
Ripley's Believe It Or Not Museum
9907 Front Beach Rd  Panama City Beach, FL 32407
(850) 230-6113
---
Explore Panama City Beach's ONLY Upside-Down House
Yeah, that's right… you didn't read it wrong. Panama City Beach is home to an AWESOME upside down house, known as WonderWorks. It's as exciting on the inside, as it is on the outside. There's over 100 interactive, hands-on exhibits, experiments, and rides to keep the kids (and you!) entertained the entire time. This place is a great way to beat the heat of the day, or spend an entire evening exploring, experimenting, and competing with each other – there's PLENTY to do for younger kids, teenagers, adults, and everyone in-between. Take a look at this short list for a start, Vertical G-Force Ride, bed of nails, swim with virtual sharks, stand in a hurricane wind tunnel, play Lazer Tag, or let the kids climb around the 3 story ropes course! You won't regret checking this place out…
Wonderworks
9910 Front Beach Rd Panama City Beach, FL 32407
(850) 249-7000
---
Let the Kids Bounce off the Walls
UPDATE: (April 2013) – Since writing this post, Pump It Up has since closed. 
If your energy-filled kids need wearing out, Pump It Up might just come to your rescue during your vacation in Panama City Beach. You can sit back, relax, and watch your children completely wear themselves out by having the time of their lives. Pump It Up is an indoor play area, full of inflatable structures and play rooms, with tons of bouncy slides and even craft activities. You can go and spend the day there, sure… but the really cool feature they offer, is their 'Parents Night Out' package! Get this… for under $20 you can to drop your kids off (under the professional supervision of Pump It Up's kid-friendly staff) and leave for a romantic dinner, filled with adult conversation and free of tantrums and trips to the bathroom every ten minutes. Re-kindle your love while you kids are having a blast, bouncing, eating, and making friends!
---
Make a Splash in a Waterpark!
When you drive by Shipwreck Island, you might notice your children's faces firmly pressed against the glass… Don't worry, that's normal. There's probably a scientific formula to prove it, but the fact is … kids LOVE water parks. Luckily for you, Panama City Beach is home to Shipwreck Island… With faster paced thrill rides like the 'Tree Top Drop', and 'Pirates plunge' for the teenagers, there's also tamer family rides including a lazy river, a wave pool, and the 'Zoom Flume' for everyone. Shipwreck even has a special zone called the "Tadpole Hole", perfect for your toddlers. You can even buy your tickets online ahead of time through their website, so you're not waiting in lines when you get there.
Shipwreck Island Waterpark
12201 Hutchison Blvd  Panama City Bch, FL 32407
(850) 234-3333
---
Fairground Rides and a Slice of Panama City Beach History
The Miracle Strip at Pier Park is not to be missed (no… literally, I mean, you can't miss it). It's the place in Pier Park that your kid will be dragging you toward… the one with the giant, brightly colored Ferris Wheel! Not to mention the Tilt- a -Whirl, Scrambler, Carrousel, Red Barron, and beautiful Butterfly Sanctuary (which is lovely by the way). This place is good old fashioned fun! Miracle Strip is actually a beloved piece of Panama City Beach history. Any local will probably be able to tell you about some good times they had at the old 'Miracle Strip', which closed in 2004. But now many of the original rides have been restored and moved to Pier Park so a whole new generation of kids and families can enjoy them… like you!
Miracle Strip Amusement Park
15700 L C Hilton Jr Dr  Panama City Bch, FL 32413
(850) 230-5200
---
Enjoy the World's Most Beautiful Beaches
That's right… one of the main reasons you were drawn to Panama City Beach in the first place has to be the natural beauty of the area. Sugar white sand that squeaks between your toes. Emerald green waters of the Gulf of Mexico. Clear blue skies without a cloud in sight. There's LOTS of ways you can slow down, keep your wallet in your pocket, and make some memories without breaking the bank. Build sandcastles, or see who can dig the deepest hole. Try body surfing or even paddleboarding. Or, slow the pace right down, and walk along the shoreline with a bucket, and collect shells to save and take home with you.
---
However you choose to enjoy Panama City Beach – there's LOTS of ways you can keep your kids happy, busy, entertained, and transform 'just another vacation' into 'the best family vacation ever!'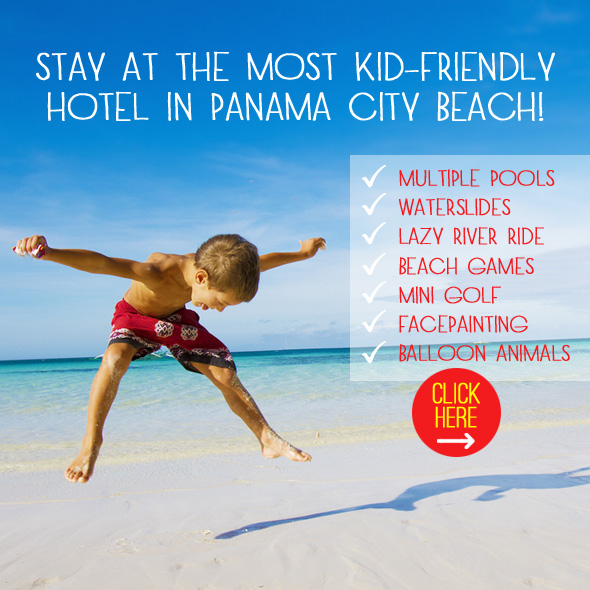 [mashshare]