A Mini Golf Adventure in Panama City Beach!
Certain family activities just go hand-in-hand with a vacation to Panama City Beach, Florida.
Think about it… You wouldn't come here, and not go to the beach, see a sunset, try some local seafood or play mini golf, right?
That's where you're in for a treat, because Panama City Beach is home to Pirate's Island Adventure Golf!
How it All Began
Pirate's Island was first established back in 1978, in Fort Myers Beach, Florida.
Their mission has always been to help "Make The World A Better Place." What better way than by putting smiles on thousands of faces, and making your vacation even more memorable?! 🙂
Their commitment to providing quality, family-oriented values and entertainment to all guests that visit, means you can expect a good time, and peace of mind.
Panama City Beach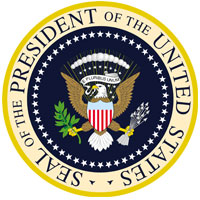 While Pirate's Island Adventure Golf belongs to a group of golf courses that stretch as far north as Maine, our favorite is right here! 🙂
Play your round of themed mini golf surrounded by streams, waterfalls and buccaneers' caves, all in search of lost treasure!
You can even enjoy amazing panoramic views from the tip of the Gulf Coast's tallest Pirate Mountain!
Plus, President Obama even played here when he visited the area with his family!
Why We Like it so Much…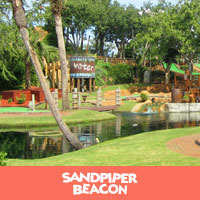 Cleanliness, and great customer service are always important (we pride ourselves on the same thing). But it's the attention to detail, and the overall level of quality that really make this Adventure Golf Course stand out.
The curb appeal of the Golf course as you drive along Front Beach Road is excellent, it will literally make you turn your head!
Plus you'll be surrounded by photo ops as you play. You might have to remind yourself that you're there to play mini golf, and not just take lots of pictures with all the stunning backdrops!
The younger kiddo's imaginations will run wild, and it will be so much fun to see them get so excited about being there. Plus it's still fun for bigger kids and grown ups too.
What You Need to Know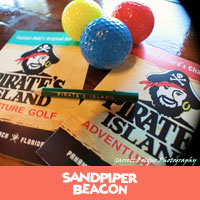 Pirate's Island is open seasonally, and times can change throughout the year. So do your research ahead of time to make sure they are open when you plan to visit.
Prices are reasonable, plus you can even pay a little extra to have the option to play as much as you like all day, which is a great way to get even more value for your money.
Smaller kids under 3 get to play for free with a full-paying adult.
Pirate's Island has also received the Certificate of Excellence from TripAdvisor multiple times, which is only awarded to properties that consistently achieve outstanding traveler reviews.
Prices
$11.00 Adults
$8.00 Children (4-12)
Little Pirates 3 & under play FREE! (with paying adult)
1 Extra round $5.00 or All day play for $7.00 extra
Start Planning Your Adventure Today
9518  Front Beach  Road
Panama City Beach, FL 32407
850-235-1171
http://www.piratesislandgolf.com/