Race City Panama City Beach – Go Carts, Mini Golf, Arcade Games, a Roller Coaster and More!
We all know that the South is known for being laid back and moving at a more relaxed pace. So what if you want to "go fast" on your vacation? There's a place for that, and it's called Race City. Great for a couple of hours of entertainment, or you could just as easily turn it into an all day experience. Returning after the sun goes down, when some of the attractions come to life – literally!
Race City offers families a huge selection unique Go Kart tracks to try. Plus they also have some exclusive attractions that you can't experience anywhere else on Panama City Beach. Take the indoor black light Mini Golf for example. It's a great way to beat the heat for a while. There is nowhere else on the beach that your family can have fun in the deepest depths of the sea, ancient Aztec ruins, and the outer edges of space! Besides, no trip to Panama City Beach is complete without a fun family game of mini golf!
But this place is called 'Race City'… So what about the Go Carts you ask! The one that catches everyone's attention first is the iconic Golden Gate. Driving along Front Beach road, you can't miss this unique track. Not only is it the highest and steepest track on the strip, it is a replica of San Francisco's famous Golden Gate suspension bridge. Kids, and kids-at-heart (7 and older) will LOVE this track for it's exhilarating twists, turns, and steep drops.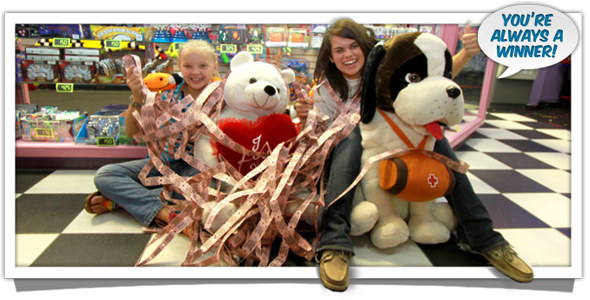 The large arcade at Race City is also a great place for kids of all ages to have fun. You can win some incredible prizes, including iPods, iPads, flat screen TVs, X-Boxes, and Blu-Ray players! From all the classic games you remember from your childhood, to shooting, racing, spinning, flashing tests of skill and luck. Cash your tickets in at the end for your choice of prize. The more tickets you have, the bigger the prizes get!
Don't worry if your kids a little too young for that sort of intensity. Race City has plenty for them as well.  In fact, the Kids Kars would be perfect. Race City is the only place on the beach that offers a special, kids-only race track where your little ones can have a great time and not worry about older, more competitive drivers. The little guys will also love the fun, floating Bumper Boats, that come equipped with squirt guns! Then there's the Crazy Bumper Cars that bump and spin during a fun game of tag in the enclosed Spin Zone (best experienced when it's dark).
Race City is located less than 7 miles from the Sandpiper Beacon Beach Resort. It's pretty much a straight drive, so it's a convenient place to take your family during your vacation. There really is something for everyone, from the small ones to the tall ones. Rides can be purchased individually, so you can budget your time there depending how large your group is.