Thanksgiving in Panama City Beach
If breakfast is the most important meal of the day, then your Thanksgiving might just be the most important meal of the year.
We haven't met anybody who doesn't get excited about Thanksgiving dinner.
The good news is, Panama City Beach is home to several restaurants serving a special Thanksgiving menu to make you feel right at home.
The best part; you don't have to deal with any of the dishes or clean up afterwards…
Below is a list of the restaurants in Panama City Beach who are offering a Thanksgiving experience.
Coconuts Restaurant
Located across the road from the Sandpiper Beacon Beach Resort, Coconuts restaurant is known for serving 'the best breakfast on the beach'. During Thanksgiving, the kitchen goes all out and serves up a traditional homestyle menu that grandma and all your aunties would be proud of! Hickory smoked turkey, traditional stuffing, mashed potatoes and gravy, green bean casserole, buttered corn, fresh baked bread rolls and butter, pumpkin pie, apple pie, pecan pie, and all the sweet and unsweetened tea you can handle!
Boars Head
Located just one mile west of Pier Park, the Boar's Head is typically known for their Prime Rib and New York Strip. When its not Thanksgiving, other popular menu items include the Yellowfin Tuna, Grouper and Scamp. A special children's menu is also available.
Craft Bar
By definition, The Craft Bar is a "gastropub". Professionally trained bartenders mix cocktails using craft spirits. The cocktail menu changes with the season. One of the most  unique selling points, is that their craft beer selections on tap include some of the rarest and most sought after beers.
You can enjoy a casual atmosphere, and decorative touches like 100 year-old reclaimed cypress (lifted from the bottom of the Chattahoochee River) for their tables and bar top.
Harpoon Harry's
Harpoon Harry's offers food, fun and music. Located right on the beach, Harry's also serves tropical frozen drinks.
Margaritaville
There is something for everyone at Margaritaville. Decks overlook the Gulf, and you can order up your favorite frosty beverage from the bar.
Runaway Island
Enjoy fresh seafood with a local flair on each menu item. Runaway is divided up into two floors and offers live entertainment. Frosty drinks are available at the upstairs bar, which also gives you a fantastic view of Panama City Beach.
The Saltwater Grill
The greatest wow-factor at the Saltwater Grill is the seven foot high, 25,000-gallon tropical saltwater aquarium. Take a look around the Mermaid Room lounge for a great view of the tropical reef while you dine.
Why Spend Thanksgiving in Panama City Beach?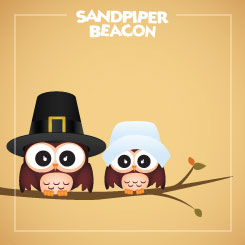 Mid – late November is one of the best times of year to visit Panama City Beach.
It's probably the last chance you'll get all year for a relaxing beach vacation.
The crowds have gone, the weather is beautiful and the sunsets are spectacular.
Hotels and Condos don't just have lower rates because it is the shoulder season, many are also offering free nights for longer stays!
Think about this too; Christmas shopping and decorating can be pretty tiring. You're about to be rushing around preparing for the season.
So think of this as a strategically well-timed opportunity to lay-low and mentally prepare yourself for what's to come.
Guests staying at the Sandpiper Beacon Beach Resort during Thanksgiving can look forward to…
Traditional Thanksgiving meal served by Coconuts Restaurant. Let us do ALL the cooking & dishes!
Planned family activities and contests in the beachside Tiki Bar
Heated Swimming Pools (Indoor and Outdoor)
Heated Indoor Lazy River Ride
Some of the lowest rates all year round
Free nights for longer stays
No crowded beaches
24/7 Guest service, including housekeeping, maintenance and resort services.
Huge selection of customizable rooms and suites sleeping up to 10, with spectacular Gulf-front views to wake up to each day
Room For Everybody
The wide selection of rooms & suites here at the Sandpiper Beacon mean you have lots of sleeping opportunities to keep everybody happy.
Whether that's everybody sharing a private beach house, villa, or condo that sleeps up to 10 people.
Or it could be giving the kids their own 2 or 3 bedroom suite, with the parents next door in an adjoining suite.
We'll work with you to find the most ideal solution to suit your needs, and your budget…