Cheap Things To Do in Panama City Beach for Under $20 (per person)
Look in the right places, and you will find PLENTY of cheap Things To Do in Panama City Beach…
If you've visited before then you already know; the beach isn't the only thing we have to offer!
Sometimes the kids have that extra burst of energy, or you just want a change of scenery…
Here are some fun and inexpensive ideas to help keep the good times rollin' without burning a hole in your wallet!
NB: Some of these attractions total more than $20 for the whole family. We have taken individual pricing into account to make this list.
At a quick glance, here's a table showing you the basics:
| Attraction | Address | Facebook Page | Price |
| --- | --- | --- | --- |
| XD Darkride | 701 S Pier Park Dr | Click Here | $9.99 |
| Pirates Island | 9518 Front Beach Road | Click Here | $11.50 |
| Wonderworks | 9910 Front Beach Rd | Click Here | $18.99 |
| Ripley's | 9907 Front Beach Road | Click Here | $17.99 |
| Rock It Lanes | 513 Richard Jackson Blvd | Click Here | $4 |
| Grand Theater | 500 Pier Park Dr | Click Here | $10 |
| Race City | 9523 Front Beach Rd | Click Here | $5 |
| Goofy Golf | 12206 Front Beach Rd | Click Here | $8 |
---
1. The XD Darkride Experience in Pier Park ($9.99)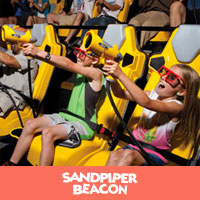 Single rides start at $9.99 Multiple rides per day unlock more discounts.
Part video game, part interactive movie, part ride. This is a one of a kind attraction that will remind you of the rides at places like Universal Studios!
Fasten the seatbelt of your motion seat, pick up your laser gun, and shoot the bad guys on the screen as the movie plays.
You're competing for the high score the whole time, so accuracy is important!
Teenagers and gamers in your group will love, love, love this!
The movies last around 15 minutes, and there are different movies to choose from. www.xddarkridepierpark.com
---
2. Pirate's Island Adventure Golf ($11.50)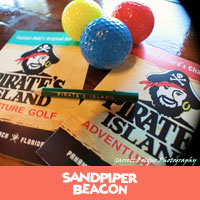 $11.50 is the adult price. Little pirates (under 3) play free.
One of the coolest things you'll see on Front Beach Road is the huge Pirates Island Mini Golf course. Talk about curb appeal!
Located close to Ripley's, Race City and Wonderworks, Pirate's Island is in a great spot.
This beautiful mini golf course is very well maintained, and fun to play.
Mom and dad, it will take you back to your childhood, and your kid's imaginations will run wild playing here too.
Play through caves, waterfalls, and buried treasure, the whole time revealing the story of Captain Kidd's treasure!
---
3. WonderWorks ($18.99+)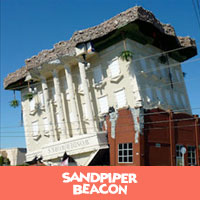 $18.99 is the basic general admission price per child (aged 5-12) before tax.
Indoor fun for the whole family. This makes for a great place to beat the heat in the middle of summer or stay dry on rainy days.
The building looks like it has fallen out of the sky and landed upside down, but the wackiness doesn't stop there.
Once you are inside you are literally surrounded by dozens of exciting hands-on, interactive 'experiments' that your kids will enjoy.
With each different activity your kids will interact and not even realize they are learning!
"Let your imagination run wild" at WonderWorks. 🙂
---
4. Ripley's Believe it or not ($17.99)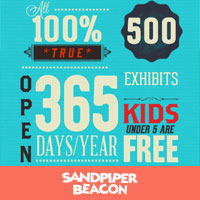 $17.99 is the cost of admission for a single adult before tax.
This Panama City Beach attraction is housed inside another iconic Panama City Beach Landmark.
Opposite Wonderworks, you'll find Ripley's Believe it or not inside of a sunken ship!
Your options of things you can do at Ripley's (and how much you'll pay) varies.
You can just tour the museum of oddities and unusual artifacts that Ripley's is known for, this is the cheapest option.
You can also try the 7D Cinema, Mirror Maze and Laser Race. The extra attractions also come with an extra price tag, but they do sell package tickets that can work out cheaper if you want to try more.
---
5. St. Andrews State Park ($8)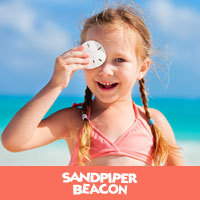 Vehicles entering the State Park must pay a per-vehicle charge of $8 for the entire day.
Explore the East end of Panama City Beach for only $8 per vehicle.
There is so much to see with this top-rated State Park, from Alligator Lake to the jetties that line the beach.
St Andrew's State Park is a great way to show the kid's how cool Florida's natural wildlife is.
Plus this is where you can get the shuttle to Shell Island, go fishing from the pier, spend some time on the beach or enjoy an awesome sunset.
---
6. Rock-it Lanes ($4)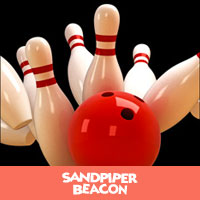 Bowling games start at $4 per game.
Rock It lanes gives you and the fmaily access to bowling, an arcade, pool tables, food, a bar and roller skating rink all under one roof!
It's free to enter, and you can pay separately for each activity, so you're in complete control of how much you spend.
Located in the Shoppes at Edgewater, Rock-it-Lanes has a lot going on all in one place.
Kick back and enjoy a cheeseburger while you watch your children skate in the indoor rink or teach them some trick-shots in a game a pool.
Just be sure to wear fun shirts since you'll be glowing in the black-light bowling!
---
7. The Grand Theater ($~10)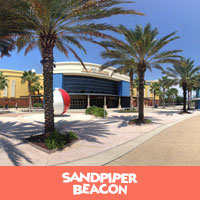 Ticket prices vary based on age, show time, and whether you watch the IMAX showing.
You can watch a larger than life IMAX movie at the Grand Theater in Pier Park.
Locals Tip: catch a matinee or visit on Super Saver Tuesday to save a few extra bucks on the movies your family has been itching to see.
Share a large (bottomless) popcorn while you and your family enjoy the movie.
This is also a great way to stay cool for a couple of hours on a hot day. Or to stay dry if you're looking for something to do when it's raining in Panama City Beach.
---
8. Race City ($~5)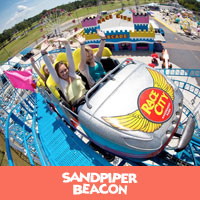 You can pay per ride at Race City, with prices starting out at around $5 each.
This amusement park has the biggest selection of Go Kart tracks in Panama City Beach.
Decisions, decisions, decisions… There are FOUR different Go Kart tracks to choose from so whatever kind of race you want, they probably have it!
Once you have finished burning rubber on the tracks you can stop by the indoor Arcade, ride the Roller Coaster, or try out the Bumper Boats.
Take a look at the Unlimited Armbands as a way to get the biggest bang for your buck. They do cost more than $20 per person, but paying for the individual rides for a big group can add up quickly.
---
Summary
Still, the most inexpensive way to relax on your vacation, while keeping the family happy, is going to the beach. 27 miles of beautiful soft white sand and clear water is all yours to explore.
Just grab your towel (and sunscreen) and hit the beach 🙂
If you're a guest staying at the Sandpiper Beacon Beach Resort then you don't even have to leave to have fun and keep the family entertained!
We bring the fun to your doorstep, after all… We are the FUN Place!
Our daily activities range from Polynesian fire dancers to a family craft hour. There is even a hula lesson or two in the mix. Plus, with all of the indoor/outdoor pools, inflatable water slides, and on-site mini golf, there are lots of great ways to have a great time at no extra cost!
Click here to take a look at more Fun Things to Do in Panama City Beach right here at the Sandpiper Beacon…