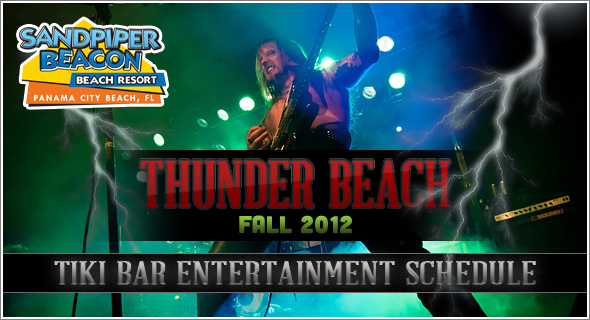 Thunder Beach Entertainment Schedule Fall 2012
It's that time of year again… The fall 2012 Thunder Beach Bike Rally is right around the corner, and we've been busy booking awesome bands, running sound tests, and working out how we can top the incredible entertainment experience everyone has grown to expect from the Tiki Bar!
We're just as excited as you… Plus, with a few tricks up our sleeve, and some new talented bands booked, the Tiki Bar will continue it's long-held tradition of providing the best live bands and entertainment on the beach during the rally… Day AND Night!
As always, we invite you to come and enjoy the best bands of the bike rally, playing on the main beach stage in the Tiki Bar (right on the beach). Take advantage of our daily drink specials, and remember; we never charge you a cover to get in… PLUS we have exclusive motorcycle vendors right here in the parking lot. Hook your ride up with some killer custom LED lights, get some new leathers, or buy your official Thunder Beach Panama City merchandise.
From the hottest bands, the best live entertainment, the tastiest food & drinks and exclusive on-site vendors – The Tiki Bar at the Sandpiper Beacon has got you covered!