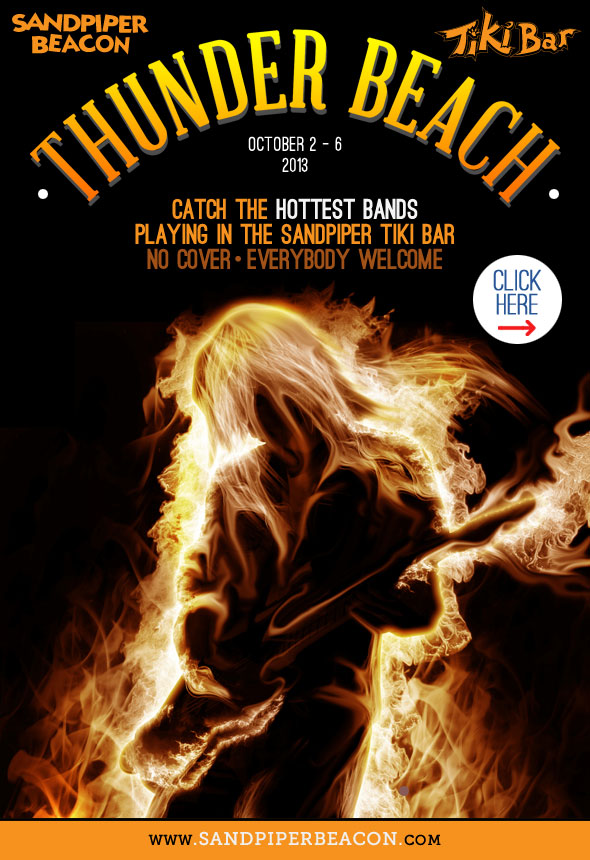 Thunder Beach Fall 2013 Dates
Thunder Beach, Fall 2013. It's gonna be big… Actually, it's gonna be HUGE!
Each year the rally gets bigger and better, vendors come from all over the country, the beers get colder, and the bands keep playing! 🙂
Panama City Beach, Florida; offering World class seafood, and dozens of fun attractions and lots of things to do. That's not even mentioning the sugar white sandy beaches, which have been called the "World's most beautiful beaches". The Thunder Beach Bike Rally in PCB is here to stay, and we like it that way!
So whether this is gonna be your first time, or you're a veteran Thunder Beach attendee, here's what you can expect…
Fall 2013 Rally Dates
The official dates for the Fall 2013 Thunder Beach Bike Rally are October 2nd – October 6th
Bands
We've been doing this since day one…THIS is where Thunder Beach began! So we know EXACTLY how to put on an awesome show. The Tiki Bar at the Sandpiper Beacon has a reputation for having the biggest, and best bands on the beach during the Bike Rally – and you can't beat the good old fashioned, honest value of being completely FREE to everyone. Always. 🙂
Vendors
The Sandpiper Beacon is one of the places you can pick up your OFFICIAL Thunder Beach T-Shirt for the collectors out there. Each year, we are an OFFICIAL Thunder Beach Bike Rally Sponsor.
Tiki Bar
Right on the beach, palm trees, hammocks, and ice cold drinks. The Tiki Bar has 2 awesome beach stages, concert lighting and sound setup, and grills lining the back deck. All you need are hot coals, and meat 🙂
FREE Beer & BBQ
Yep, you read it right… FREE Beer & BBQ Cookout! It's a Bike rally tradition here at the Sandpiper Beacon. Lots of places like to say they are "biker friendly" during the rally – well, we say talk is cheap 🙂 We like to SHOW our appreciation to all our registered guests with a FREE BBQ Cookout with beer on the beach, while live bands play in the Tiki Bar (dates not confirmed yet).
Harley Davidson Panama City Beach
Just a short drive along Highway 98, the Sandpiper is one of the closest beachfront hotels to the brand new Harley Davidson motorcycle dealership.